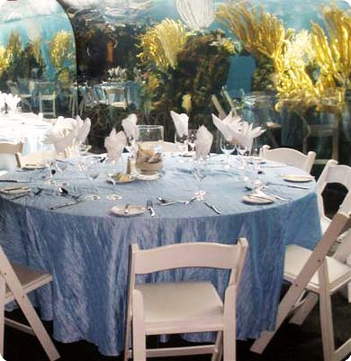 The Bermuda Aquarium, Museum & Zoo is a popular venue for corporate functions, cocktail parties or intimate gatherings for friends. The Aquarium Hall is an extraordinary venue, with our magnificent North Rock Exhibit as a backdrop for your evening event.
Parties can be held in the Aquarium Hall any day of the week 6:30 pm–11:30 pm.
The cost of $1,250 is for the exclusive use of the Aquarium Hall. Catering and entertainment are not provided by the Bermuda Aquarium. The Aquarium has a contract for catering with Fourways Catering. For more information on catering, click on the link to the Facility Brochure below.
Add some extra excitement to your party with our exclusive "Diver in the Tank" talk. This should be requested at the time of booking and is subject to the availability of a diver. The cost is an additional $200.
Due to the nature of the facility, soft music or jazz entertainment is recommended instead of a DJ.
The Bermuda Zoological Society and the Bermuda Aquarium, Museum & Zoo actively campaign against the use of balloons of any kind due to the hazard to marine life. For this reason, NO balloons are allowed on the premises. Drinking straws are also prohibited.
For more information on prices and to get a rental form, email events@bzs.bm
Download the Facility Brochure
Download the Facility Rental Contract
Download Rental Guidelines