Gift & Bookstore
You make a difference. Every purchase supports the Bermuda Zoological Society's ongoing education and conservation efforts to inspire appreciation and care of island environments.
The BZS Shop has a great range of unique Bermuda made products, ideal gifts for family and friends, and an amazing collection of books for all ages. You can buy soft toys, T-Shirts, hats, jewellery and take a piece of the Bermuda Aquarium home with you! Our friendly staff are on hand to assist you in finding the perfect souvenir or gift. Mastercard and Visa credit cards accepted.
In addition, all members will receive a 10 percent discount on purchases over $10 when showing the BZS Membership card.
Store hours: 10 am until 4 pm daily. Closed Christmas Day, Boxing Day, New Year's Day.
Select a category below to view items available for purchase.
OUR APOLOGIES THE TABS LISTED BELOW ARE CURRENTLY NOT ACTIVE. PLEASE VISIT THE SHOP IN FLATTS TO MAKE YOUR PURCHASES.
Check out what we have in store!
Botany - Experimental Greenhouse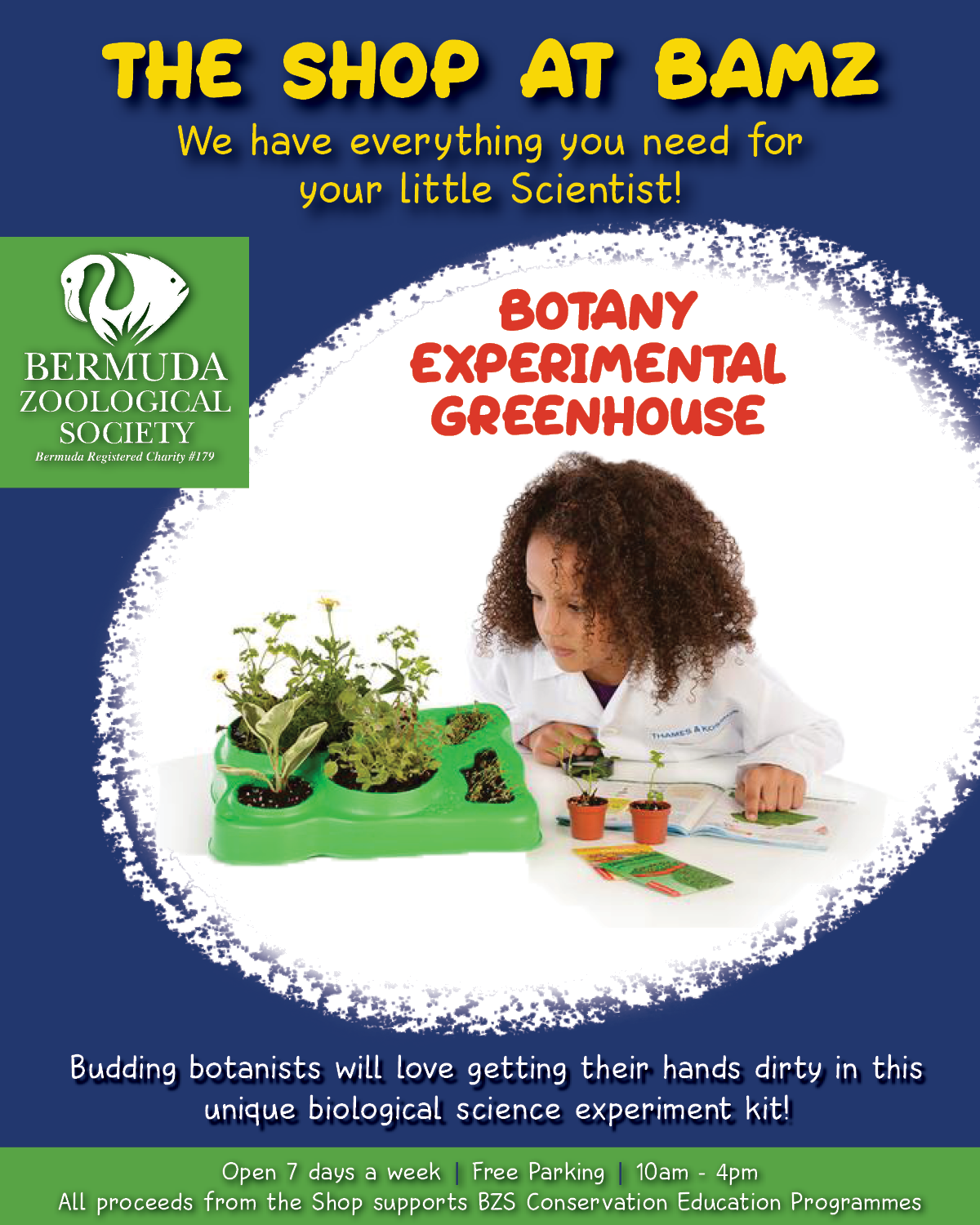 Budding botanists will love getting their hands dirty in this unique biological science experiment kit. Learn about plants and seeds by conducting experiments in a specially designed botanical laboratory with greenhouse domes, complete with thermometer and ventilation. Construct an automatic watering system to keep your plants from getting too thirsty. Grow beans, cress, and zinnia flowers in your greenhouses.
Experiment with plant cells and capillary action. Learn how roots work to transport water and nutrients throughout a plant. Conduct experiments that demonstrate how plants need water, light, and heat to grow.
Discover the strength of a bean and how leaves sweat. See why grass grows back after it is cut and how cuttings can grow roots. Germinate fruit and vegetable plants from the seeds in your kitchen.
Grow a flower garden. Make tiny plaster bugs to decorate your garden. Collect seeds with your socks, and grow a funny grass head. Make leaf and bark rubbings. Learn how you can force budded branches to bloom in winter.
With a 48-page, full-color illustrated guidebook, this kit teaches botany fundamentals with step-by-step instructions for the hands-on experiments as well as growing information for many common plants.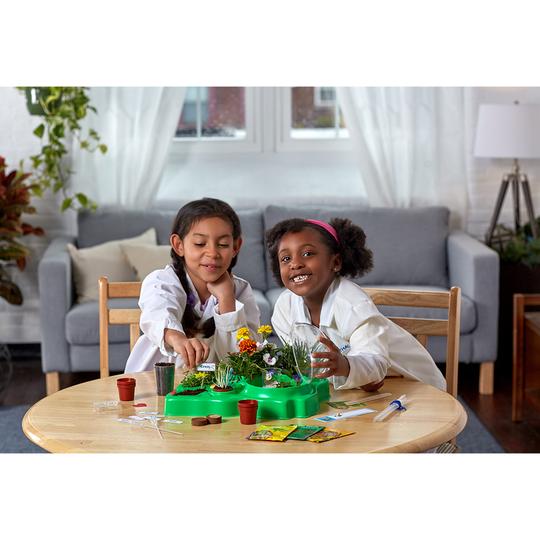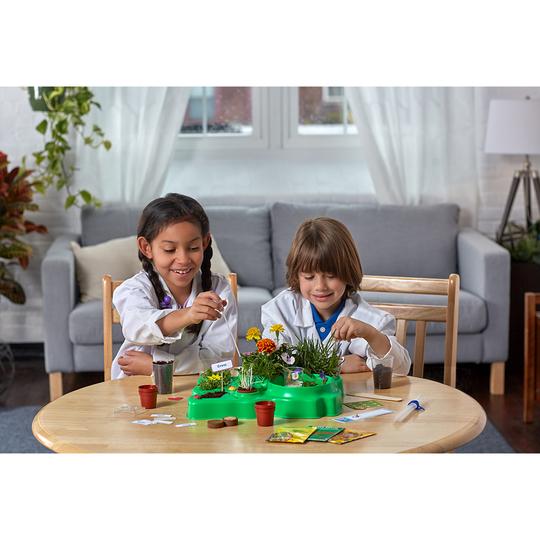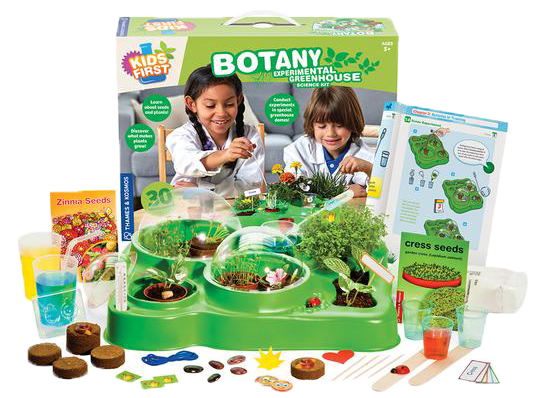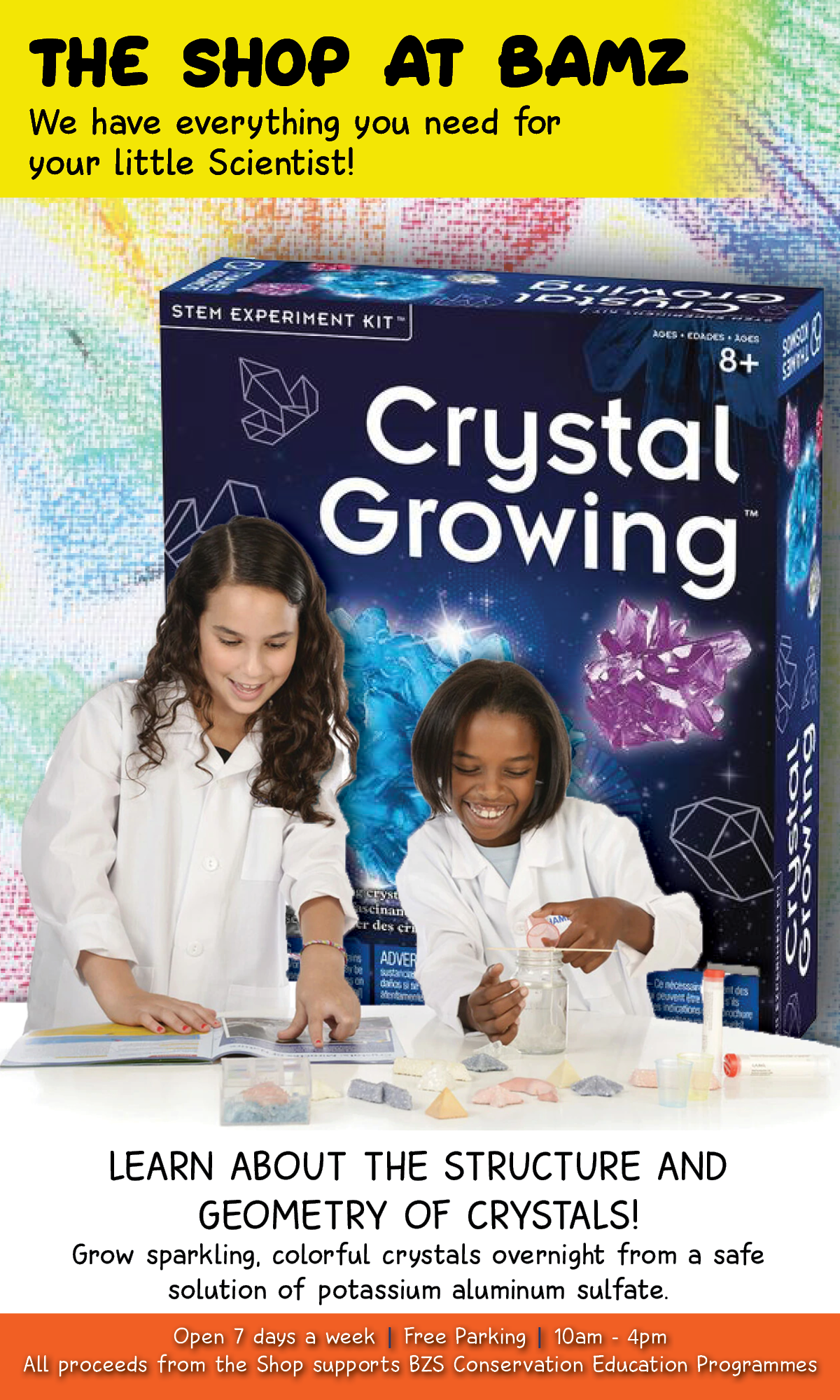 Grow sparkling, colorful crystals overnight from a safe solution of potassium aluminum sulfate. Single out the largest crystal shard, redissolve the remaining crystals, and repeat the crystal formation process to grow a larger, more striking crystal. This kit includes four packets of crystal-growing salt and two dyes (red and blue) so you can grow a variety of crystals in different sizes and colors.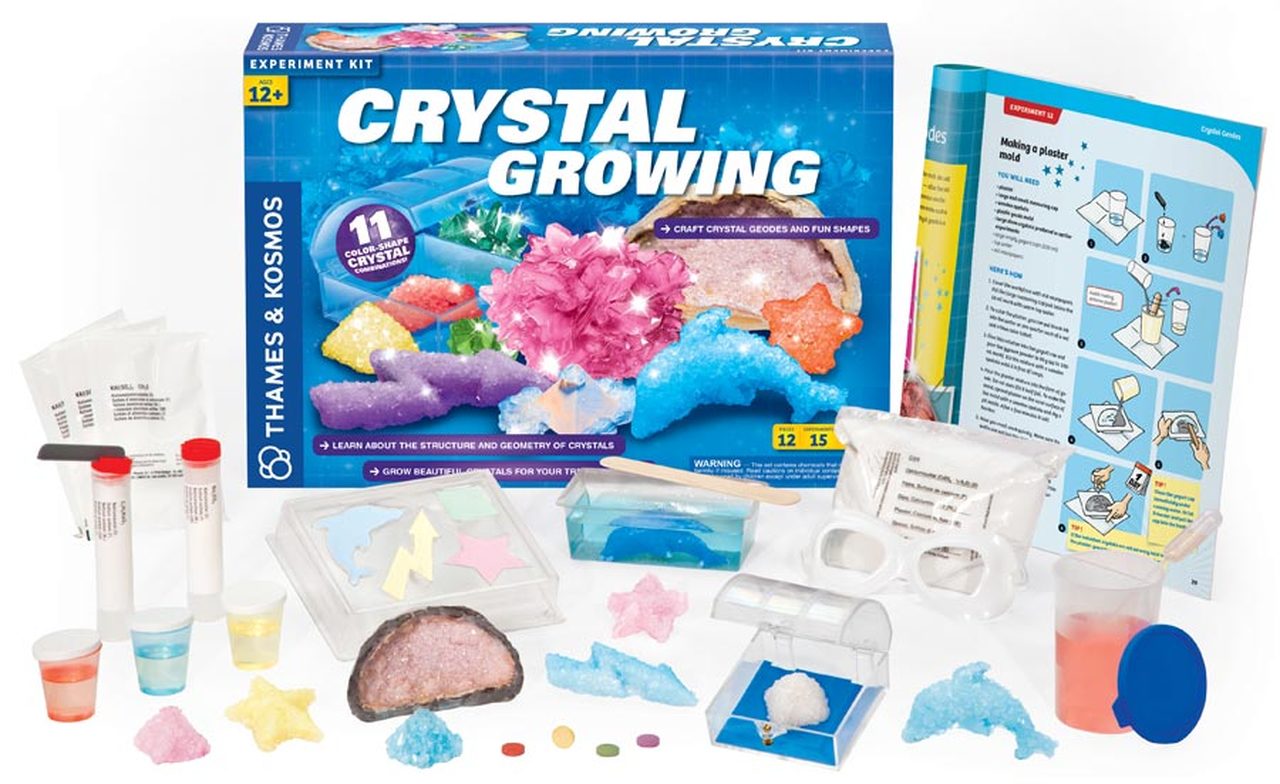 Happy Atoms Introductory Set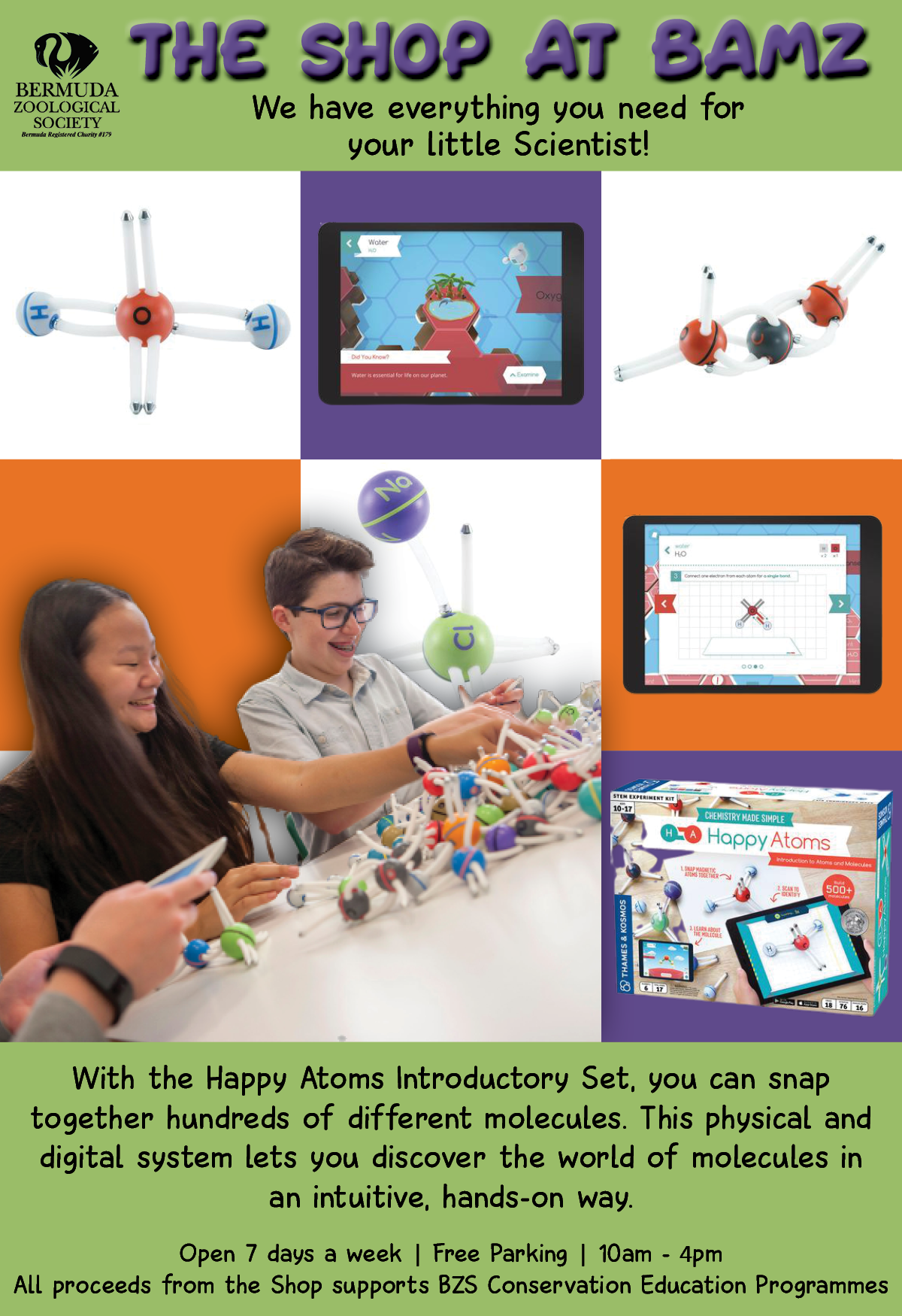 Chemistry is the science of materials, their properties, and how they react with each other. All materials are made of atoms. Why do some atoms combine with each other while other atoms do not? Because atoms just want to be happy!
With this revolutionary approach to teaching chemistry, you can make your own happy atoms! This physical and digital system lets you discover the world of molecules in an intuitive, hands-on way. Using a set of 17 atom models representing 6 different elements, you can assemble your own molecular models. The atoms connect easily with magnets: metal tips on the ends of rubbery arms, which represent free electrons, snap onto magnetic bonding sites on the atom spheres, which represent empty spots for electrons in the atom's outermost electron shell.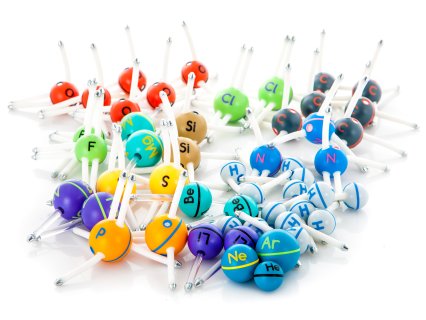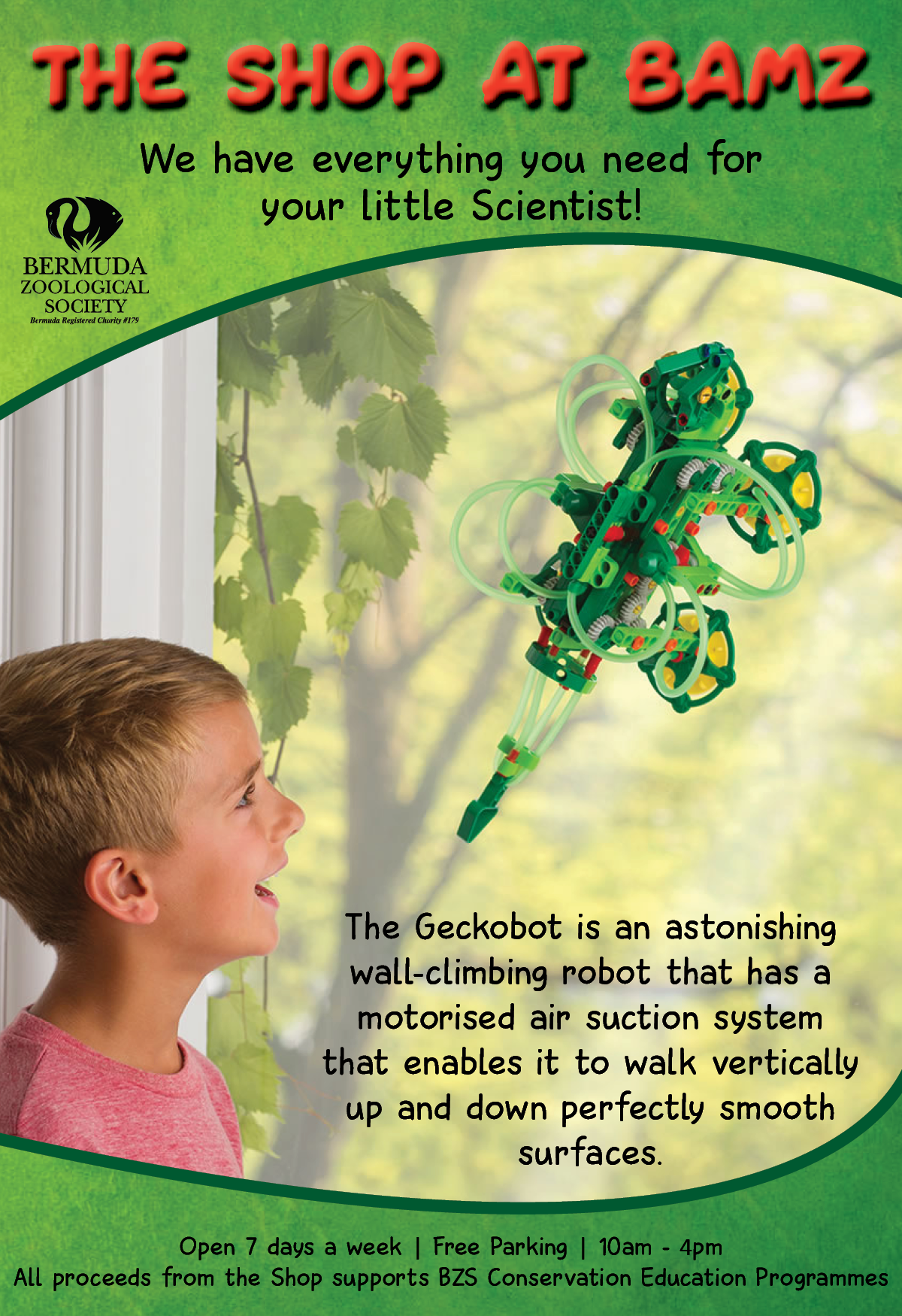 You can build six other models and conduct experiments with suction to learn about air pressure and the mechanical physics of this unique device. Build models of an industrial robotic arm with a vacuum suction cup gripper, crawling inch worm, smartphone holder, suction tow truck and car, ellipsograph, and suction gun. A 24-page, full-color manual guides you through model building with step-by-step illustrated instructions and provides scientific information and explanations.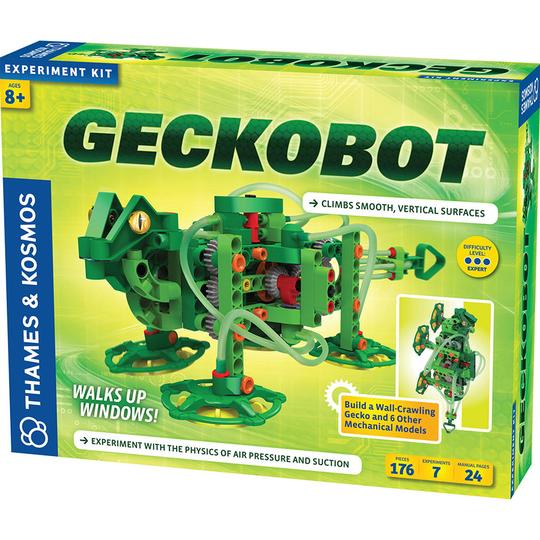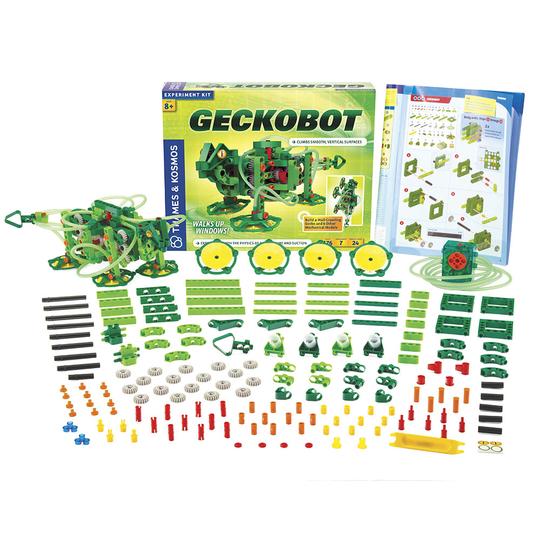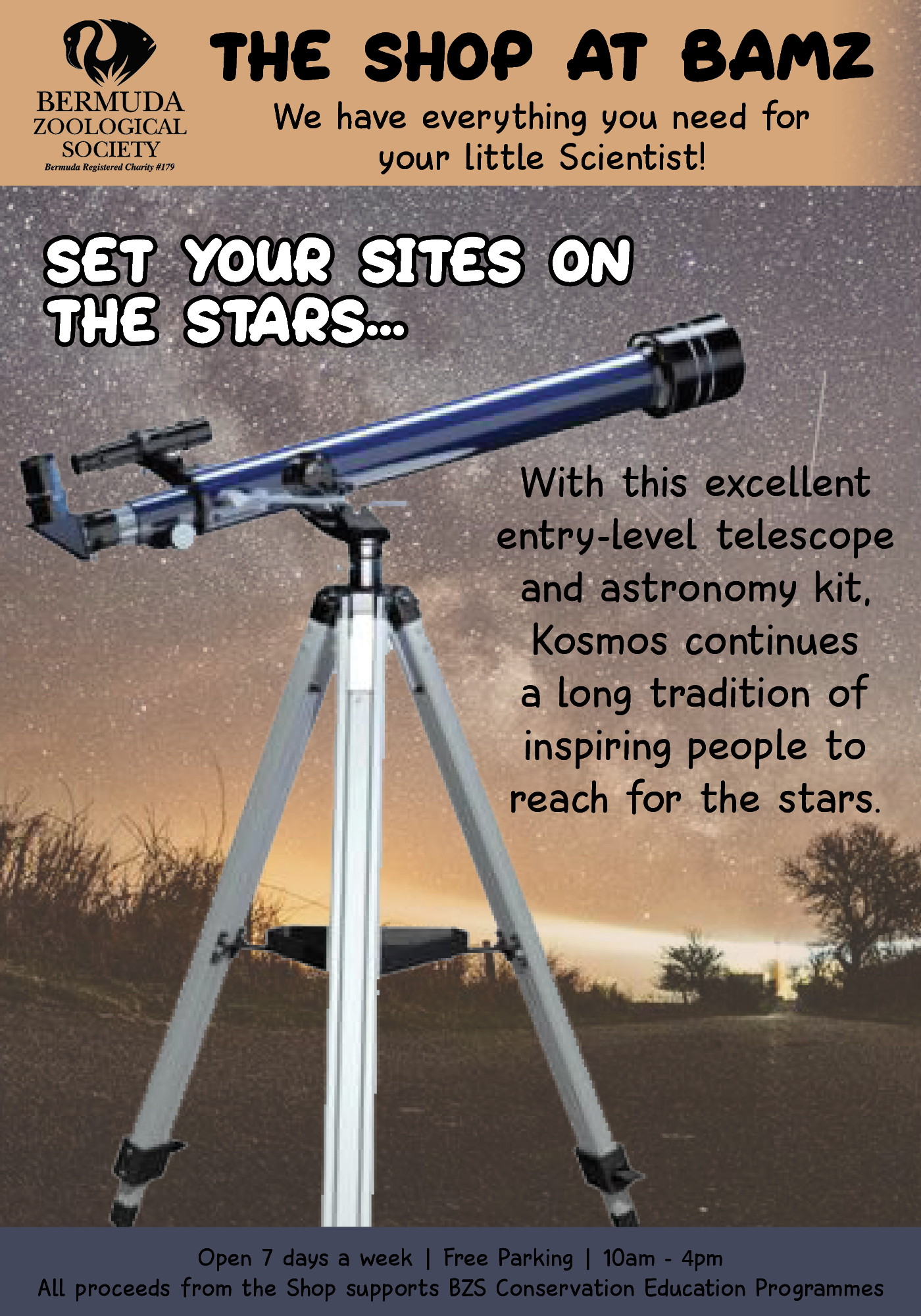 With this excellent entry-level telescope and astronomy kit, Kosmos continues a long tradition of inspiring people to reach for the stars. This high-quality refractor telescope with coated glass optics and plenty of accessories allows for countless exciting space observations. With it, you can see Mercury, Venus, Mars, Jupiter (including its stripes), Saturn, the moons of both Jupiter and Saturn, Uranus, and many craters on the Moon. You can also see various nebula and galaxies including the Hercules nebula, Eagle nebula, Andromeda galaxy, and a seemingly infinite number of stars.
Beginners and advanced amateur astronomers alike can appreciate the quality optics, durable construction, sturdy aluminium tripod, and comprehensive, easy-to-follow astronomy book — all at a great value. In the instruction book, the scope and accessories are clearly explained so that even beginners can quickly find the moon, constellations, or planets in the night sky. Terrestrial observations on Earth are also possible by using the 1.5x erecting lens.