Recent News
Earth Day to be celebrated around the island today
Friday, April 22, 2022
People in Bermuda will join millions around the world today to celebrate the planet and its environment for the 52nd annual Earth Day.
Drivers urged to fill their tanks and help good causes
Friday, February 11, 2022
Bermuda's drivers have been asked to fill their tanks for a good cause as a charity event combining fun and fundraising goes for its 53rd annual spin tomorrow.
Zoological Society Launch Micro Forest Project
Monday, November 22, 2021
The Bermuda Zoological Society [BZS], in partnership with RenaissanceRe, is initiating a pilot project to "promote biodiversity and stewardship of our natural heritage by creating several sustainable micro forests."
Aurum Fund Management Donates To BZS
Wednesday, September 15, 2021
Aurum Fund Management Limited has donated $12,500 to the Bermuda Zoological Society [BZS] to aid in the creation of a saltwater pond to support the growth of Black Mangroves on Trunk Island.
A spokesperson said, "The Bermuda Zoological Society is happy to announce that Aurum Fund Management Limited have donated $12,500 to the creation of a saltwater pond to support the growth of Black Mangroves on Trunk Island – the BZS 'Living Classroom.' An anonymous donor also assisted with funds for the project.
BZS To Host Zoom Around The Sound On Sept 18
Thursday, September 02, 2021
The Bermuda Zoological Society will be holding the annual Zoom Around The Sound event on Saturday, September 18th.
A spokesperson said, "Are you ready to zoom with the Bermuda Zoological Society? Join the annual Zoom Around the Sound event on Saturday, 18th September and help the BZS raise funds for their education and conservation programmes.
Community
About Us
Board of Directors
Contact Us
Become a Volunteer
Newsletter
Latest News
Trunk Island
Gift & Bookstore
Contact
General Inquiries
info@bzs.bm
Latest News
All the latest updates and news from the Bermuda Aquarium, Museum, and Zoo, one of Bermuda's leading visitor attractions!
Call for vigilance after turtle death
Royal Gazette
Sunday, November 12, 2017
Simon Jones
Published Nov 12, 2017 at 12:07 pm (Updated Nov 15, 2017 at 5:28 am)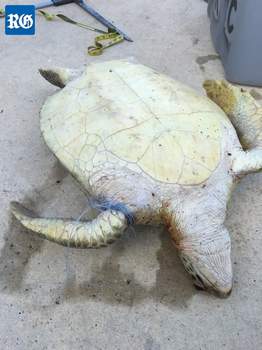 Animal welfare experts have urged the public to act quickly and call the aquarium if they see signs of a turtle in distress.
The call came after a young green turtle died in the waters off Lagoon Park, in Sandys, after it got entangled in monofilament line attached to a boat mooring.
The animal had been seen circling the mooring by local residents two days earlier, but no one had realised it was trapped.
A concerned citizen contacted Patrick Talbot, the curator of the aquarium and zoo, on Sunday afternoon, but by that time the animal had died.
Mr Talbot said: "I confirmed that the turtle was spotted two days earlier hanging around the mooring by a member of the public.
"They were concerned on Saturday that there might be a problem as it was still there, but when the turtle was approached, it dove underwater and out of sight. Unfortunately, it drowned late on Sunday morning.
"We want to stress the importance of early reporting but also the importance of removing fishing line and other entanglement hazards from the water.
"Unfortunately, in this case, we were not able to get to the animal in time. The sooner we know, the better chance we have of saving the turtle."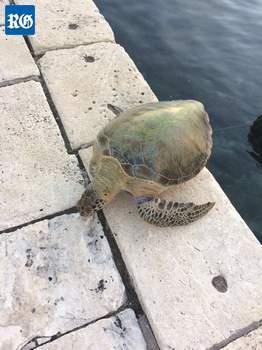 Earlier this summer, a loggerhead turtle rescued by divers was returned to the sea after nine months of care.
The turtle, nicknamed "Chad" by his rescuers, was found tangled in cargo netting in Ely's Harbour last October by Blue Water Divers.
Ian Walker, principal curator of the Bermuda Aquarium, Museum and Zoo, said: "We are always grateful when the general public contacts us to try to save wildlife. If you suspect an animal might be tethered in place via entanglement with fishing line or other materials, please call us as soon as possible so we can investigate.
"The best number to call is the Maritime Operations Centre on 297-1010 or VHF Channel 16.
"An entangled animal that is tethered will be seen in the same place over a period of hours. "They may have trouble diving or getting their head above water and they may look like they are circling something such as a mooring buoy. In these cases, time is of the essence if we are to save the animal from injury or death."
Dr Walker added: "Unfortunately, this is the second recent case of tethering entanglement that we have seen and we felt it was important to alert the public so they can be aware of animals in this type of distress and act accordingly.
"As always, we encourage the general public to pick up fish line and hooks if they find them discarded along our shorelines as they can become lethal traps for our wildlife."