Recent News
One thousand turn up to help celebrate environmental landmarks
Thursday, June 09, 2022
About 1,000 people turned out to the Bermuda Aquarium, Museum and Zoo on Saturday to celebrate World Oceans Day and World Environment Day.
The facility, along with the Bermuda Zoological Society, hosted a free Family Open Day, where they demonstrated their "commitment to ocean conservation".
David Wingate portrait donated to National Gallery
Thursday, May 12, 2022
A leading conservationist was presented with a portrait of himself in honour of his work.
Ornithologist shows David Wingate helping a fledging Cahow from its nest with two of the seabirds in flight behind him.
A dedication event was held at the Bermuda Aquarium, Museum and Zoo on Saturday.
SailGP preparations underway as Cross Island comes to life
Wednesday, May 11, 2022
Sailing fever is now in full swing at the West End ahead of the opening races of SailGP this weekend.
Behind the scenes at Cross Island, headquarters of the Bermuda Grand Prix, the sailing teams and their technical support are immersed in preparations.
BZS Welcomes Youth Climate Summit Participants to Trunk Island
Thursday, May 05, 2022
On Saturday, 30th April, the Bermuda Zoological Society (BZS) invited 6 participants from the Youth Climate Summit, as well as the Youth Climate Initiative Consulting Director - Dr. Rosemarie McMahon, for a morning of planting native trees on Trunk Island, the BZS Living Classroom. Under the careful guidance of Trevor Rawson, the BZS Trunk Island Project Coordinator, the participants were able to plant 30 native and endemic trees - teaching them the importance of placing trees and shrubs in a newly graded and exposed coastal environment.
Warwick Playground Transformed by the BZS Micro Forest Project
Tuesday, April 26, 2022
If you drove along South Shore in Warwick last Saturday morning you may have seen a large group of people planting at Warwick Playground. The Bermuda Zoological Society (BZS) was joined by their Junior Volunteers, members of the BZS Science Club, individuals from the Government of Bermuda's Department of Parks, employees from the Bermuda Aquarium, Museum and Zoo and corporate volunteers from RenaissanceRe and Aspen Re to plant the second plot for the BZS Micro Forest Project.
Community
About Us
Board of Directors
Contact Us
Become a Volunteer
Newsletter
Latest News
Trunk Island
Gift & Bookstore
Contact
General Inquiries
info@bzs.bm
Latest News
All the latest updates and news from the Bermuda Aquarium, Museum, and Zoo, one of Bermuda's leading visitor attractions!
Pod of ten whales seen offshore
Royal Gazette
Saturday, April 07, 2018

Kevin Smith, Social Media Editor
Published Apr 7, 2018 at 8:00 am (Updated Apr 6, 2018 at 11:53 pm)

Two film-makers spotted a massive pod of whales off the coast of Bermuda.
Conor Outerbridge and Adam Johnson were out on the water to film humpback whales for their company when they came across the ten-strong group two miles off South West Breaker.
Mr Outerbridge told The Royal Gazette: "This is the first time I've seen ten whales at once. They do travel in a pod of ten, but I've just never seen it.
"In Bermuda, you always see a pod of two or three or like four if you're lucky. Normally they're spread out; normally you don't see pods of ten whales."
Mr Outerbridge, a professional photographer and videographer, has filmed whales five times.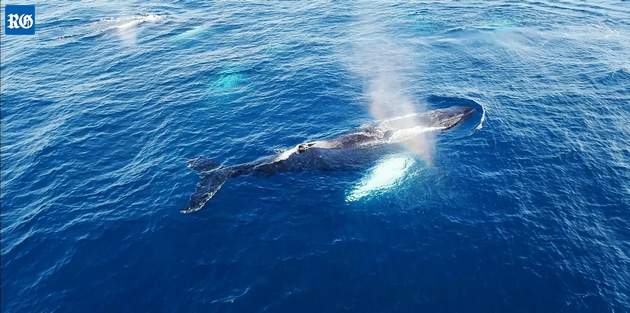 A humpback about two miles off shore (Photograph by Conor Outerbridge)
The two were shooting video for their company, Marooned Clothing, a range with an environmental twist which also aims "to promote the protection of the ocean and cleaning up trash around Bermuda".
Co-founder Mr Johnson said: "The whole concept is starting something in Bermuda, mainly promoting ocean awareness and to get the younger generation interested in protecting the ocean."
However, Andrew Stevenson, who has been studying whales in Bermuda for 12 years, said a pod of ten humpback whales in these waters was not unusual.
Mr Stevenson, principal investigator for the Humpback Whale Project, which is backed by the Bermuda Zoological Society, said: "I see groups of 16, 14, seven, eight, nine."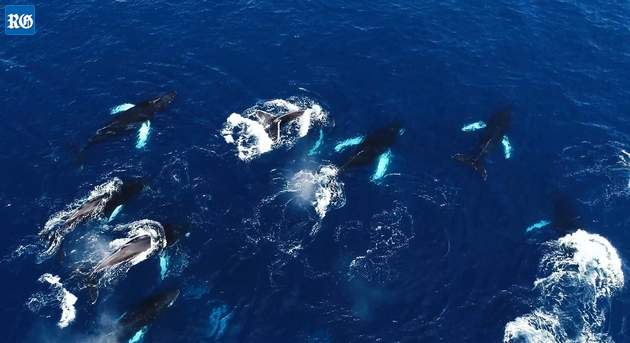 The pod of humpbacks about two miles off shore (Photograph by Conor Outerbridge)
"Yesterday was the biggest, there must have 25 whales and they're closely packed together."
He explained that whales in these groupings are "usually a female with a bunch of males competing for her attention" which are known as "rowdy groups".
He added: "Sometimes it's pretty relaxed, and sometimes, like yesterday, it's very heated.It's a lot of shoving and pushing and barging and hitting.
"It's a competitive group, they're trying to vie for the attention of the female but I'm not really sure why they're doing it at this time of the year because it's too late for the female to breed."