Recent News
Micro Forests set to get bigger
Saturday, August 27, 2022
More microforests are set to appear around the island as a Bermuda Zoological Society project to plant more trees and shrubs continues to grow.
The BZS Awards Four Students Environmental Science Scholarships
Wednesday, August 24, 2022
Four Bermudian students have been awarded a combined $15,000 in educational funds as part of the Bermuda Zoological Society's (BZS) annual BZS Steinhoff programme. Osei Agyapong, Imogen Peckett, Logan Soares and Naphisa Smith were selected for their academic achievements and their commitment to protecting the environment.
From Block Island to Montauk Through Sharks, Currents and Cramps
Tuesday, August 23, 2022
Lori King of Long Island finished a nearly 24-mile trip in 8 hours 39 minutes 45 seconds. Once her swim is certified, King will be recognized as the first person to complete the journey.
Hamilton Lions pump up the cash for local charities
Wednesday, July 06, 2022
Two charities reaped $11,000 each thanks to an enduring fundraiser by Hamilton Lions Club.
The proceeds from the club's 53rd annual Gas-O-Rama and raffle draw were presented to Vision Bermuda and the Bermuda Zoological Society.
Aspen Plants First Red Mangroves on Trunk Island
Wednesday, June 22, 2022
On Friday 3rd June, employees from Aspen were excited to plant the first young red mangrove trees in their sponsored Coastal Red Mangrove Forest on Trunk Island – the Bermuda Zoological Society's (BZS) 'Living Classroom'.
Community
About Us
Board of Directors
Contact Us
Become a Volunteer
Newsletter
Latest News
Trunk Island
Gift & Bookstore
Contact
General Inquiries
info@bzs.bm
Latest News
All the latest updates and news from the Bermuda Aquarium, Museum, and Zoo, one of Bermuda's leading visitor attractions!
Pod of ten whales seen offshore
Royal Gazette
Saturday, April 07, 2018

Kevin Smith, Social Media Editor
Published Apr 7, 2018 at 8:00 am (Updated Apr 6, 2018 at 11:53 pm)

Two film-makers spotted a massive pod of whales off the coast of Bermuda.
Conor Outerbridge and Adam Johnson were out on the water to film humpback whales for their company when they came across the ten-strong group two miles off South West Breaker.
Mr Outerbridge told The Royal Gazette: "This is the first time I've seen ten whales at once. They do travel in a pod of ten, but I've just never seen it.
"In Bermuda, you always see a pod of two or three or like four if you're lucky. Normally they're spread out; normally you don't see pods of ten whales."
Mr Outerbridge, a professional photographer and videographer, has filmed whales five times.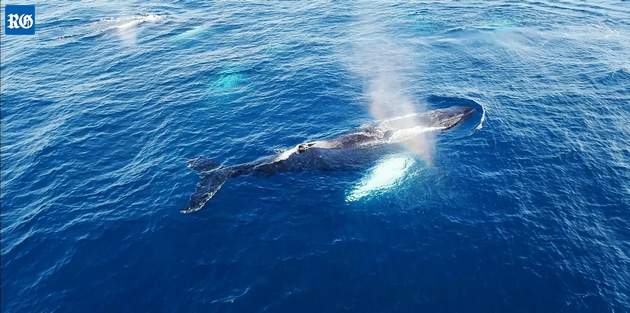 A humpback about two miles off shore (Photograph by Conor Outerbridge)
The two were shooting video for their company, Marooned Clothing, a range with an environmental twist which also aims "to promote the protection of the ocean and cleaning up trash around Bermuda".
Co-founder Mr Johnson said: "The whole concept is starting something in Bermuda, mainly promoting ocean awareness and to get the younger generation interested in protecting the ocean."
However, Andrew Stevenson, who has been studying whales in Bermuda for 12 years, said a pod of ten humpback whales in these waters was not unusual.
Mr Stevenson, principal investigator for the Humpback Whale Project, which is backed by the Bermuda Zoological Society, said: "I see groups of 16, 14, seven, eight, nine."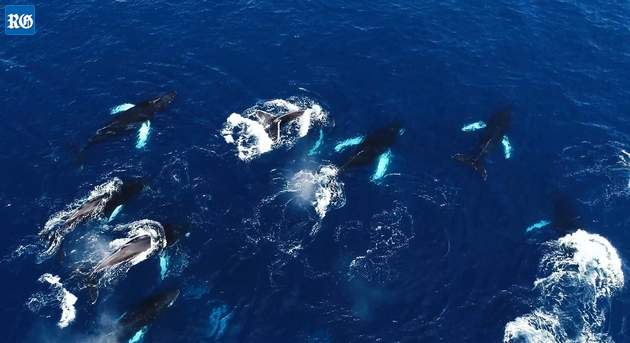 The pod of humpbacks about two miles off shore (Photograph by Conor Outerbridge)
"Yesterday was the biggest, there must have 25 whales and they're closely packed together."
He explained that whales in these groupings are "usually a female with a bunch of males competing for her attention" which are known as "rowdy groups".
He added: "Sometimes it's pretty relaxed, and sometimes, like yesterday, it's very heated.It's a lot of shoving and pushing and barging and hitting.
"It's a competitive group, they're trying to vie for the attention of the female but I'm not really sure why they're doing it at this time of the year because it's too late for the female to breed."