Recent News
BZS just misses out on award recognising use of drone technology
Monday, November 07, 2022
An island charity was shortlisted for an international award for its use of drone programming.
The Bermuda Zoological Society was nominated for a Drone Deploy Award for its use of Drone Deploy, an internet-based drone mapping programme.
BAMZ interns get hands-on experience in range of roles
Friday, October 21, 2022
Over the summer the Bermuda Zoological Society (BZS) had the privilege of affording a multitude of student summer positions at the Bermuda Aquarium, Museum & Zoo (BAMZ), through internship programme placements and volunteer opportunities. Within these roles the students were able to gain industry experience, explore the different areas of the facility, gain volunteer hours for their academic year, and acquire mentorships for their future within the industry of environmental studies and conservation.
Event to give young people a say in Blue Prosperity Plan
Friday, October 21, 2022
Young people were invited to provide input on how Bermuda can mitigate long-term threats such as climate change as part of a consultation on The Draft Blue Prosperity Plan.
We cannot give up hope, says turtle advocate
Friday, October 14, 2022
One of the highlights of the year for Gaëlle Roth is the Bermuda Turtle Project's annual turtle round-up.
For two-weeks every August, D Roth, director of the project, scientists and conservation students, come together to capture, weigh, measure, examine, tag and release turtles in local waters.
Work of Bermuda scientists to be highlighted at New York event
Saturday, October 08, 2022
The Atlantic Conservation Partnership, a sister organisation to the Bermuda Zoological Society, in partnership with The Explorers Club NYC, will host Heart of the Sargasso Sea: Bermuda's Marine Conservation on October 13 at The Explorers Club headquarters.
Community
About Us
Board of Directors
Contact Us
Become a Volunteer
Newsletter
Latest News
Trunk Island
Gift & Bookstore
Contact
General Inquiries
info@bzs.bm
Latest News
All the latest updates and news from the Bermuda Aquarium, Museum, and Zoo, one of Bermuda's leading visitor attractions!
Call for vigilance after turtle death
Royal Gazette
Sunday, November 12, 2017
Simon Jones
Published Nov 12, 2017 at 12:07 pm (Updated Nov 15, 2017 at 5:28 am)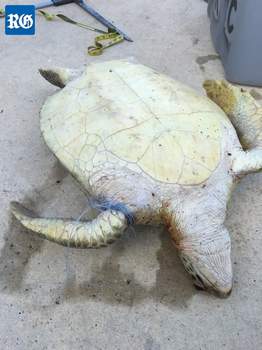 Animal welfare experts have urged the public to act quickly and call the aquarium if they see signs of a turtle in distress.
The call came after a young green turtle died in the waters off Lagoon Park, in Sandys, after it got entangled in monofilament line attached to a boat mooring.
The animal had been seen circling the mooring by local residents two days earlier, but no one had realised it was trapped.
A concerned citizen contacted Patrick Talbot, the curator of the aquarium and zoo, on Sunday afternoon, but by that time the animal had died.
Mr Talbot said: "I confirmed that the turtle was spotted two days earlier hanging around the mooring by a member of the public.
"They were concerned on Saturday that there might be a problem as it was still there, but when the turtle was approached, it dove underwater and out of sight. Unfortunately, it drowned late on Sunday morning.
"We want to stress the importance of early reporting but also the importance of removing fishing line and other entanglement hazards from the water.
"Unfortunately, in this case, we were not able to get to the animal in time. The sooner we know, the better chance we have of saving the turtle."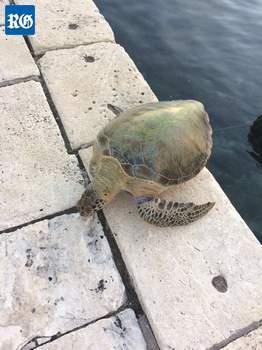 Earlier this summer, a loggerhead turtle rescued by divers was returned to the sea after nine months of care.
The turtle, nicknamed "Chad" by his rescuers, was found tangled in cargo netting in Ely's Harbour last October by Blue Water Divers.
Ian Walker, principal curator of the Bermuda Aquarium, Museum and Zoo, said: "We are always grateful when the general public contacts us to try to save wildlife. If you suspect an animal might be tethered in place via entanglement with fishing line or other materials, please call us as soon as possible so we can investigate.
"The best number to call is the Maritime Operations Centre on 297-1010 or VHF Channel 16.
"An entangled animal that is tethered will be seen in the same place over a period of hours. "They may have trouble diving or getting their head above water and they may look like they are circling something such as a mooring buoy. In these cases, time is of the essence if we are to save the animal from injury or death."
Dr Walker added: "Unfortunately, this is the second recent case of tethering entanglement that we have seen and we felt it was important to alert the public so they can be aware of animals in this type of distress and act accordingly.
"As always, we encourage the general public to pick up fish line and hooks if they find them discarded along our shorelines as they can become lethal traps for our wildlife."