Recent News
We cannot give up hope, says turtle advocate
Friday, October 14, 2022
One of the highlights of the year for Gaëlle Roth is the Bermuda Turtle Project's annual turtle round-up.
For two-weeks every August, D Roth, director of the project, scientists and conservation students, come together to capture, weigh, measure, examine, tag and release turtles in local waters.
Work of Bermuda scientists to be highlighted at New York event
Saturday, October 08, 2022
The Atlantic Conservation Partnership, a sister organisation to the Bermuda Zoological Society, in partnership with The Explorers Club NYC, will host Heart of the Sargasso Sea: Bermuda's Marine Conservation on October 13 at The Explorers Club headquarters.
Micro Forests set to get bigger
Saturday, August 27, 2022
More microforests are set to appear around the island as a Bermuda Zoological Society project to plant more trees and shrubs continues to grow.
The BZS Awards Four Students Environmental Science Scholarships
Wednesday, August 24, 2022
Four Bermudian students have been awarded a combined $15,000 in educational funds as part of the Bermuda Zoological Society's (BZS) annual BZS Steinhoff programme. Osei Agyapong, Imogen Peckett, Logan Soares and Naphisa Smith were selected for their academic achievements and their commitment to protecting the environment.
From Block Island to Montauk Through Sharks, Currents and Cramps
Tuesday, August 23, 2022
Lori King of Long Island finished a nearly 24-mile trip in 8 hours 39 minutes 45 seconds. Once her swim is certified, King will be recognized as the first person to complete the journey.
Community
About Us
Board of Directors
Contact Us
Become a Volunteer
Newsletter
Latest News
Trunk Island
Gift & Bookstore
Contact
General Inquiries
info@bzs.bm
Latest News
All the latest updates and news from the Bermuda Aquarium, Museum, and Zoo, one of Bermuda's leading visitor attractions!
'Bermuda Adventure' continues
Royal Gazette
Tuesday, August 07, 2018
Jonathan Bell
Published Aug 7, 2018 at 2:39 pm (Updated Aug 7, 2018 at 2:39 pm)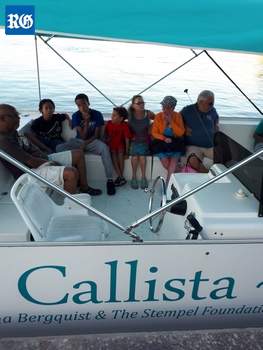 Guests at the Bermuda Aquarium, Museum and Zoo
get a tour of the neighbouring waters for ongoing family
fun courtesy of Imagine Bermuda (Photograph supplied)
A pilot programme of community celebration, organised by the group Imagine Bermuda, marked a success at the Bermuda Aquarium, Museum and Zoo.
Glenn Fubler of Imagine Bermuda said the gathering on July 30 drew more than 170 people — double the numbers expected.
Ian Walker, veterinarian and principal curator of BAMZ, hosted visitors and offered boat trips around Harrington Sound.
Mr Fubler said the family night had been selected for BAMZ because of its hospitality role as well as its importance for natural history and education.
Conservationist David Wingate took guests on guided tours of the museum, while Michael Bradshaw, a recently retired senior biology lecturer at the Bermuda College, provided a tour of the fish tank hall.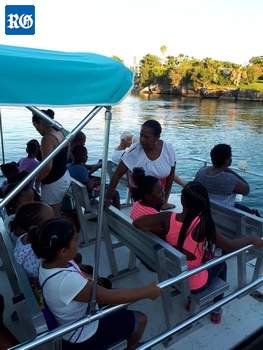 Guests at the Bermuda Aquarium, Museum and Zoo
get a tour of the neighbouring waters for ongoing
family fun courtesy of Imagine Bermuda (Photograph supplied)
Mr Fubler added: "This spirit of collaboration and giving back was the essence of its success. MEF Group provided a supply of pizza, at no cost. Voluntary assistance by Saleem Talbot of Xrossroad Warriors FC; Stacey Williams and her team from Somersfield Academy; Larry Ebbin of the Bermuda Chess Club, and Nelson Pimentel of St Patrick's Church, among others, made the difference."
The collaboration, dubbed "Bermuda Adventure" came from the marking of the late Nelson Mandela's 100th birthday on July 18.
Up next is an open house hosted by Auto Solutions on St John's Road, Pembroke, tomorrow from 5pm to 6.30pm.
Details will be found on the company's Facebook Page, Mr Fubler said.