Recent News
BZS Awards Steinhoff Scholarship & Pye Award
Tuesday, August 24, 2021
The Bermuda Zoological Society [BZS] has awarded the BZS Steinhoff Scholarship to Caroline Alexander, Isabella Murdoch, and Treiana Zuill, while Freyja Kermode was the recipient of the Pye award.
Collapse of seagrass beds threatens survival of marine life
Tuesday, August 17, 2021
The Bermuda Turtle Project is anxious to get back out onto the water this month to get a clearer picture of sea turtle abundance. Due to the restrictions brought upon us all by the pandemic, we have been unable to do any in-water research for nearly two years and it would appear, from observations, there have been some drastic changes in our marine environment.
Seagrass beds have 'completely collapsed' in last four years
Tuesday, August 17, 2021
Many acres of seagrass beds crucial for the survival of sea turtles and other marine life have "completely collapsed" over the last four years, according to a leading environmental group.
BZS's Kids on the Reef programme: an insider's look
Wednesday, August 11, 2021
The Bermuda Zoological Society recently completed its ninth year of the Kids on the Reef programme, which is generously sponsored by AXA XL. This year, the BZS sent Megan Dodd, a university student studying strategic communications and marketing, out with a student group so that she could provide a first-hand account of what the students experience and learn over the two-day programme.
Bermuda's coral reefs 'doing well' but future is uncertain
Tuesday, August 10, 2021
Bermuda's coral reefs could help to protect the island from strengthening storms – if we are able to keep them healthy.
Community
About Us
Board of Directors
Contact Us
Become a Volunteer
Newsletter
Latest News
Trunk Island
Gift & Bookstore
Contact
General Inquiries
info@bzs.bm
Latest News
All the latest updates and news from the Bermuda Aquarium, Museum, and Zoo, one of Bermuda's leading visitor attractions!
Prevent plastic pollution
Royal Gazette
Thursday, June 07, 2018
Press Release
Published Jun 7, 2018 at 2:38 pm (Updated Jun 7, 2018 at 2:38 pm)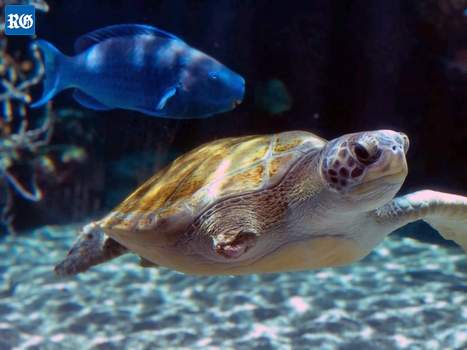 Today, June 8th, is World Oceans Day, and the theme for this year is the prevention of plastic pollution to encourage healthy oceans. On World Oceans Day, people around our blue planet celebrate and honour the ocean, which connects us all.
According to the World Oceans Day organisation, "plastic pollution poses a threat to human health, kills and harms marine life, damages and alters habitats, and can have substantial negative impacts on local economies. Research from the Ocean Project shows that pollution, especially plastics pollution, is already widely accepted as a big problem that we need to and can address."
"The primary direct threat to marine life is entanglement or ingestion. Sea turtles, birds, and fish alike accidentally mistake plastic for food and choke or get sick by ingesting it. It's distressing to think about how much plastic is almost unavoidable — sometimes, it can seem useless to take action. But if many of us act together, we can reduce the amount of plastic in the ocean, and show the world that we demand less disposable plastic in our everyday lives!"
At the Bermuda Aquarium, Museum and Zoo (BAMZ) we continuously encounter situations involving plastics and our marine life. These situations include turtles who become entangled in fishing lines, which can lead to loss of flippers or even the death of the animal. Ingestion of plastics also cause major problems in preventing animals from digesting food because of blockages in their intestinal tract.
Ocean plastic debris is not only a serious concern for marine life, but it can also be dangerous to human health! Scientists are finding that chemicals in plastic consumed by fish eventually travel up the food chain — and get into our bodies. So, by littering, we are not only poisoning the environment, we are also poisoning ourselves.
The Bermuda Zoological Society is asking its members and the entire community to play a part in plastic prevention by saying "No" to plastic. Substitute plastics for biodegradable materials, and when you visit the beach this summer collect 3 pieces of plastic and dispose of it in the proper receptacle.
As part of the celebration of the 50th anniversary of the Bermuda Turtle Project, on June 27th, Dr. Ian Walker, Principle Curator at BAMZ will be giving a lecture at the BAMZ on wildlife rehibition and the impact plastic pollution has on our environment, particularly sea turtles. Come out and learn what we do to save our marine creatures!
• Press release from Bermuda Zoological Society