Recent News
We cannot give up hope, says turtle advocate
Friday, October 14, 2022
One of the highlights of the year for Gaëlle Roth is the Bermuda Turtle Project's annual turtle round-up.
For two-weeks every August, D Roth, director of the project, scientists and conservation students, come together to capture, weigh, measure, examine, tag and release turtles in local waters.
Work of Bermuda scientists to be highlighted at New York event
Saturday, October 08, 2022
The Atlantic Conservation Partnership, a sister organisation to the Bermuda Zoological Society, in partnership with The Explorers Club NYC, will host Heart of the Sargasso Sea: Bermuda's Marine Conservation on October 13 at The Explorers Club headquarters.
Micro Forests set to get bigger
Saturday, August 27, 2022
More microforests are set to appear around the island as a Bermuda Zoological Society project to plant more trees and shrubs continues to grow.
The BZS Awards Four Students Environmental Science Scholarships
Wednesday, August 24, 2022
Four Bermudian students have been awarded a combined $15,000 in educational funds as part of the Bermuda Zoological Society's (BZS) annual BZS Steinhoff programme. Osei Agyapong, Imogen Peckett, Logan Soares and Naphisa Smith were selected for their academic achievements and their commitment to protecting the environment.
From Block Island to Montauk Through Sharks, Currents and Cramps
Tuesday, August 23, 2022
Lori King of Long Island finished a nearly 24-mile trip in 8 hours 39 minutes 45 seconds. Once her swim is certified, King will be recognized as the first person to complete the journey.
Community
About Us
Board of Directors
Contact Us
Become a Volunteer
Newsletter
Latest News
Trunk Island
Gift & Bookstore
Contact
General Inquiries
info@bzs.bm
Latest News
All the latest updates and news from the Bermuda Aquarium, Museum, and Zoo, one of Bermuda's leading visitor attractions!
Educational treat at Trunk Island
Royal Gazette
Thursday, June 14, 2018

Marli Spriggs Year 8, Warwick Academy
Published Jun 14, 2018 at 8:00 am (Updated Jun 14, 2018 at 1:28 am)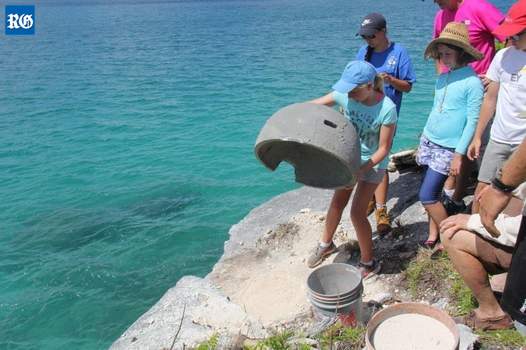 Environmental study: Warwick Academy's Eco Club students on Trunk Island
Warwick Academy's Eco Club students Luke Foster, Grace Flannery, Katya Williamson, Jibril Taylor, Isabel Hughes, Roxy Crockwell-Laurent and Rip Crockwell-Laurent), enjoyed a joyful and enlightening trip to Trunk Island, Harrington Sound. The trip was guided by Dr David Wingate.
The purpose of this conservation trip was to build igloos for the longtail bird, which has been troubled by hurricanes, predators and erosion.
The day started at 8.30am by catching a boat called the Castilla, which was directed by Captain Trevor, from Bermuda Aquarium Museum and Zoo.
Before heading to Trunk Island, they stopped at Rabbit Island, which is an extremely successful breeding ground for longtail birds.
The students were in their element and in awe at the progress the island had made over time. Dr Wingate shared some interesting facts about the project and shared his knowledge to the budding generation of conservationists.
Once their on-boat lesson was over and they reached Trunk Island, they received another lesson inside a classroom on the island.
This was an essential part of the learning process about the installation of longtail igloos and helped. The group thoroughly enjoyed the exclusive lesson and picked up more than a few skills to assist them.
Isabel said the lesson was "a good experience to learn how to build a longtail enclosure so you can build some more when you're older".
Jibril said: "We found it very enlightening and interesting".
Roxy also found the experience "awesome" and "really interesting".
After the lesson, the group jumped into action to start their mission of installing two longtail igloos.
They made an instructional video on how to install the igloo and then took a well-deserved break before finishing their work.
The weather wasn't completely on their side but they managed to get everything done. At lunch, there was a delicious potluck-style barbecue followed by swimming and lessons on invasive and indigenous plants.
The lucky bunch want to thank Dr Wingate for guiding them on this educational experience, Captain Trevor for delivering them safely and Ms Rosland Wingate for inviting them out and organising the trip.
Warwick Academy's conservation trip was a complete and absolute success; surely the group would do it all again if they could.