Recent News
End-to-End names charities to benefit from 2023 event
Saturday, February 18, 2023
Five charities will benefit from money raised at this year's Convex End-to-End, it was announced today.
Funds raised will go to the Bermuda Zoological Society's Microforest Project, Gina Spence Productions, the Eliza DoLittle Society, the Skills Development Programme and Vision Bermuda.
Juvenile Seal Rescued From Clearwater Beach
Saturday, February 18, 2023
A seal was seen at Clearwater Beach today [Feb 18] and it returned to the ocean before BAMZ staff could arrive to provide assistance, and they noted that a "seal in Bermuda is in distress" so have advised that anyone sees the seal please keep your distance and contact the BAMZ Animal hotline at 293-2727.
BZS Lionfish Chowder Competition
Saturday, February 18, 2023
The Bermuda Zoological Society [BZS] held an Eat'Um to Beat'Um Lionfish Chowder Competition event this afternoon [Feb 18] at the Bermuda Aquarium, Museum & Zoo [BAMZ], with crowds of people coming out to taste the various chowders.
Micro forests take root across the island
Thursday, January 19, 2023
An effort to establish a series of "micro forests" across the island has established ten thriving plots, according to the Bermuda Zoological Society.
Successful First Year of Micro Forest Project
Thursday, January 19, 2023
The Bermuda Zoological Society [BZS] has highlighted the BZS Micro Forest Project, which has an aim to plant 1,500 native-compatible and endemic plants each year for three years.
Community
About Us
Board of Directors
Contact Us
Become a Volunteer
Newsletter
Latest News
Trunk Island
Gift & Bookstore
Contact
General Inquiries
info@bzs.bm
Latest News
All the latest updates and news from the Bermuda Aquarium, Museum, and Zoo, one of Bermuda's leading visitor attractions!
Lecture series to celebrate turtle project
Royal Gazette
Saturday, April 14, 2018
Owain Johnston-Barnes
Published Apr 14, 2018 at 8:00 am (Updated Apr 14, 2018 at 8:55 am)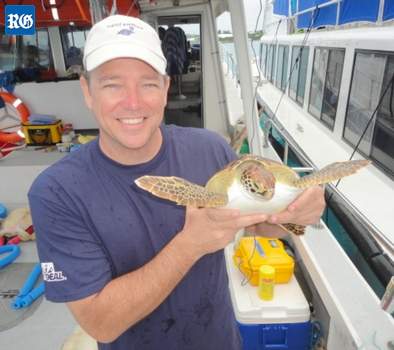 David Godfrey, executive director of the Florida-based
Sea Turtle Conservancy (Photograph supplied)
The Bermuda Turtle Project is celebrating its 50th anniversary with a lecture series featuring international experts.
The series is set to begin on April 26 with David Godfrey, executive director of the Sea Turtle Conservancy in Florida, giving an illustrated presentation.
The Sea Turtle Conservancy is the world's oldest sea turtle research and conservation group.
A Bermuda Zoological Society spokeswoman said: "This lecture will share some of the very first sea turtle video footage, inspire your appreciation of these mysterious animals, celebrate a half century of success in protecting sea turtles and acknowledge the challenges these species still face.
"David's presentation will begin on the black sand beaches of Tortuguero, Costa Rica, the largest remaining nesting site for green turtles in the Western Hemisphere — and trace the beginnings of a movement to study and protect sea turtles that spread from Tortuguero to the far reaches of the Caribbean, Bermuda and eventually around the world."
The event will be held at the Bermuda Underwater Exploration Institute, and proceeds will go towards the project.
• Tickets are available through he Bermuda Zoological Society website, www.bzs.bm, or call 293-2727