Recent News
We cannot give up hope, says turtle advocate
Friday, October 14, 2022
One of the highlights of the year for Gaëlle Roth is the Bermuda Turtle Project's annual turtle round-up.
For two-weeks every August, D Roth, director of the project, scientists and conservation students, come together to capture, weigh, measure, examine, tag and release turtles in local waters.
Work of Bermuda scientists to be highlighted at New York event
Saturday, October 08, 2022
The Atlantic Conservation Partnership, a sister organisation to the Bermuda Zoological Society, in partnership with The Explorers Club NYC, will host Heart of the Sargasso Sea: Bermuda's Marine Conservation on October 13 at The Explorers Club headquarters.
Micro Forests set to get bigger
Saturday, August 27, 2022
More microforests are set to appear around the island as a Bermuda Zoological Society project to plant more trees and shrubs continues to grow.
The BZS Awards Four Students Environmental Science Scholarships
Wednesday, August 24, 2022
Four Bermudian students have been awarded a combined $15,000 in educational funds as part of the Bermuda Zoological Society's (BZS) annual BZS Steinhoff programme. Osei Agyapong, Imogen Peckett, Logan Soares and Naphisa Smith were selected for their academic achievements and their commitment to protecting the environment.
From Block Island to Montauk Through Sharks, Currents and Cramps
Tuesday, August 23, 2022
Lori King of Long Island finished a nearly 24-mile trip in 8 hours 39 minutes 45 seconds. Once her swim is certified, King will be recognized as the first person to complete the journey.
Community
About Us
Board of Directors
Contact Us
Become a Volunteer
Newsletter
Latest News
Trunk Island
Gift & Bookstore
Contact
General Inquiries
info@bzs.bm
Latest News
All the latest updates and news from the Bermuda Aquarium, Museum, and Zoo, one of Bermuda's leading visitor attractions!
Flying visit for rare bird
Royal Gazette
Monday, January 22, 2018

News Staff
Published Jan 22, 2018 at 8:00 am (Updated Jan 22, 2018 at 12:03 am)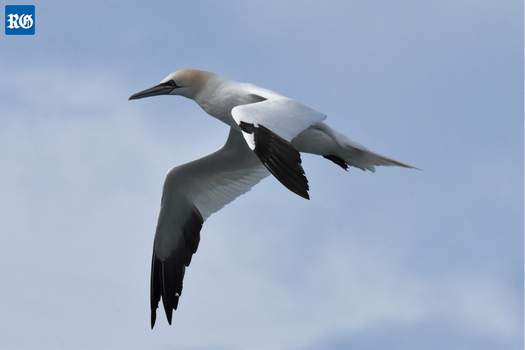 Rare bird: a northern gannet flies over St George's Harbour (Photograph by Andrew Dobson)
One of the largest plunge divers in the world made a rare and spectacular appearance off the North Shore.
A northern gannet, which boasts a wingspan of 6ft, was spotted fishing off the coastline and in St George's Harbour.
According to the Bermuda Audubon Society, its dive from height into the ocean came as a treat for local birders and residents of St George's.
Northern gannets are native to North America. However, they winter along the whole of the North American coast, including the Gulf of Mexico.
President of the Bermuda Audubon Society, Andrew Dobson, said, "It does not occur annually in Bermuda and most records have been of immature birds.
"Gannets take four to five years to attain their all-white plumage with black wing tips, so this is an experienced bird driven out into the ocean by recent storms."
Mr Dobson said a second adult bird was found this month off the coast in Somerset. It was taken to the rehabilitation facility at Bermuda Aquarium, Museum and Zoo but did not survive.
Mr Dobson will deliver his annual illustrated bird lecture at Bermuda Underwater Exploration Institute on Tuesday, January 30, at 7.30pm.
It is titled "2018: Year of the Bird".