Recent News
Cane toad decline results in pest boom
Thursday, May 10, 2018
Bermuda's "safest form of pest control" is under threat from water pollution, a researcher who has tracked the island's cane toad population for about 20 years warned yesterday.
Videos: Stevenson starts work on Whale film
Tuesday, May 08, 2018
Whale researcher Andrew Stevenson has started work on a follow-up to his acclaimed documentary 'Where the Whales Sing' – which for the first time will include unique aerial footage.
Whale researcher using aerial footage
Tuesday, May 08, 2018
Whale researcher Andrew Stevenson will use unique aerial footage for a follow-up to his acclaimed documentary Where the Whales Sing.
Parrotfish Checkup
Wednesday, May 02, 2018
When new fish arrive at BAMZ, they must first undergo a minimum of 30 days quarantine in order to diagnose any marine parasites which, if left untreated, can infect the other inhabitants of the aquarium hall tanks.
Sheldon the baby Loggerhead turtle
Tuesday, May 01, 2018
This is Sheldon, a juvenile loggerhead turtle.
Community
About Us
Board of Directors
Contact Us
Become a Volunteer
Newsletter
Latest News
Trunk Island
Gift & Bookstore
Contact
General Inquiries
info@bzs.bm
Latest News
All the latest updates and news from the Bermuda Aquarium, Museum, and Zoo, one of Bermuda's leading visitor attractions!
Flying visit for rare bird
Royal Gazette
Monday, January 22, 2018

News Staff
Published Jan 22, 2018 at 8:00 am (Updated Jan 22, 2018 at 12:03 am)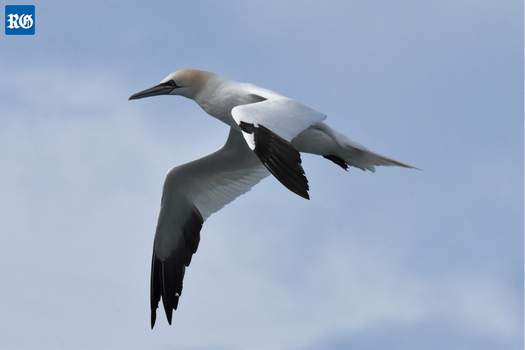 Rare bird: a northern gannet flies over St George's Harbour (Photograph by Andrew Dobson)
One of the largest plunge divers in the world made a rare and spectacular appearance off the North Shore.
A northern gannet, which boasts a wingspan of 6ft, was spotted fishing off the coastline and in St George's Harbour.
According to the Bermuda Audubon Society, its dive from height into the ocean came as a treat for local birders and residents of St George's.
Northern gannets are native to North America. However, they winter along the whole of the North American coast, including the Gulf of Mexico.
President of the Bermuda Audubon Society, Andrew Dobson, said, "It does not occur annually in Bermuda and most records have been of immature birds.
"Gannets take four to five years to attain their all-white plumage with black wing tips, so this is an experienced bird driven out into the ocean by recent storms."
Mr Dobson said a second adult bird was found this month off the coast in Somerset. It was taken to the rehabilitation facility at Bermuda Aquarium, Museum and Zoo but did not survive.
Mr Dobson will deliver his annual illustrated bird lecture at Bermuda Underwater Exploration Institute on Tuesday, January 30, at 7.30pm.
It is titled "2018: Year of the Bird".