Recent News
Top lionfish experts to help Bermuda
Friday, October 05, 2012
FRIDAY, OCT. 5: The Western Atlantic's leading authorities on lionfish management are to run a two-day workshop with some of the island's key environmental figures next week. 
Story of the cahow goes international
Friday, October 05, 2012
FRIDAY, OCT. 5: The story of how Bermuda's cahow was brought back from the brink of extinction will hit bookstores across the world next week.
Popular Zoological Society employee dies of cancer
Friday, September 28, 2012
Friends and family yesterday paid tribute to Bermuda Zoological Society's educational boat captain Tim Hasselbring, who has died from cancer aged 38.
Young dad's death devastates family
Friday, September 28, 2012
FRIDAY, SEPT. 28: A heartbroken wife has spoken of her family's devastating loss after the death of her husband from cancer.
'A visionary with an infectious enthusiasm for life'
Friday, September 28, 2012
FRIDAY, SEPT. 28: Tributes from Tim Hasselbring's close friends and colleagues have poured in from across the island in the wake of his death.
Community
About Us
Board of Directors
Contact Us
Become a Volunteer
Newsletter
Latest News
Trunk Island
Gift & Bookstore
Contact
General Inquiries
info@bzs.bm
Latest News
All the latest updates and news from the Bermuda Aquarium, Museum, and Zoo, one of Bermuda's leading visitor attractions!
Photos: BZS Participants Get Their 'Zoom' On
Bernews
Thursday, March 15, 2018

This past Sunday, 11th March, over 450 fundraisers biked, ran, walked, paddle boarded and rowed in the Bermuda Zoological Society's [BZS] annual Zoom Around the Sound race.
The popular 7.2 mile race saw men, women, children make their way around the circular route on both land and sea. All funds raised from the event went towards the BZS education programmes.
BZS Junior Volunteers after completing their walk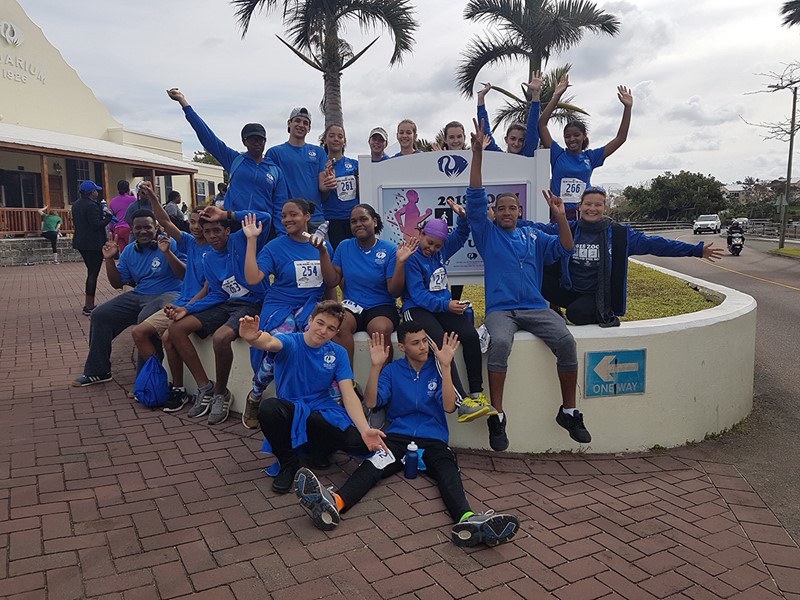 The event kicked off with a warm up at 8:15am by Yves Paul. Once all the participants were pumped up and ready to go, Dr. Ian Walker, Principle Curator of the Bermuda Aquarium, Museum and Zoo, and MC of the day's events, sent the cyclists, then runners, then walkers on their way.
Once again, the race also saw paddle boarders make their way around the sound, but this year the event also saw the inclusion of two teams of rowers in their gigs.
Morning workout with Yves Paul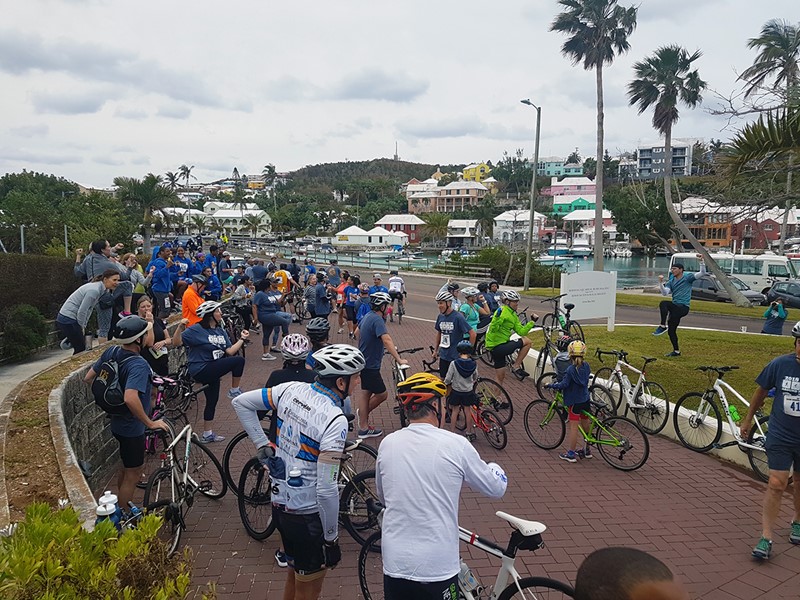 "After days of dreary weather, we were very happy that Sunday cleared up for all of our participants, especially with the day starting with a gorgeous sunrise," said Joanne Chisnall, Volunteer Coordinator at BZS and the coordinator of the event.
"The event was great success and we were especially happy to welcome the rowers in their gigs this year. A special thanks to Butterfield and Vallis and Ben & Jerry's for sponsoring the event.
"We'd also like to thank the Bermuda Regiment for providing RPs to manage traffic at the event. Finally, thanks to all the participants of the event, it wouldn't be a success without their support!"
Paddle boarders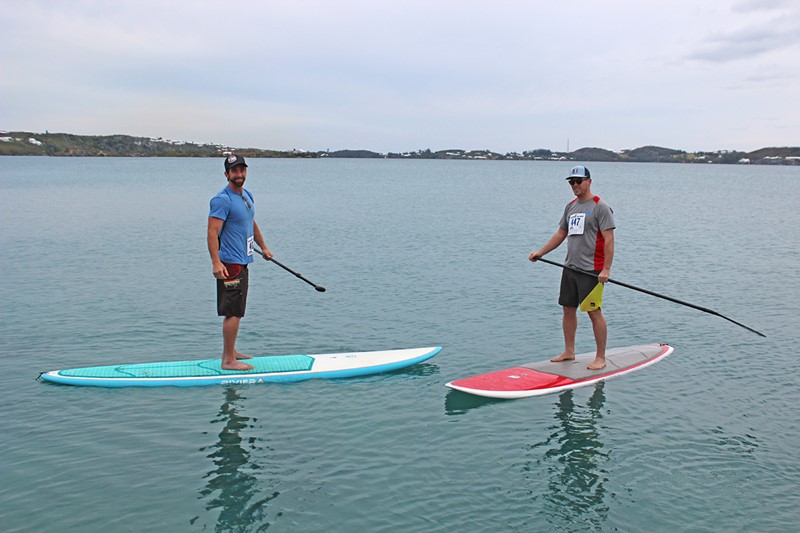 Bikers ready to go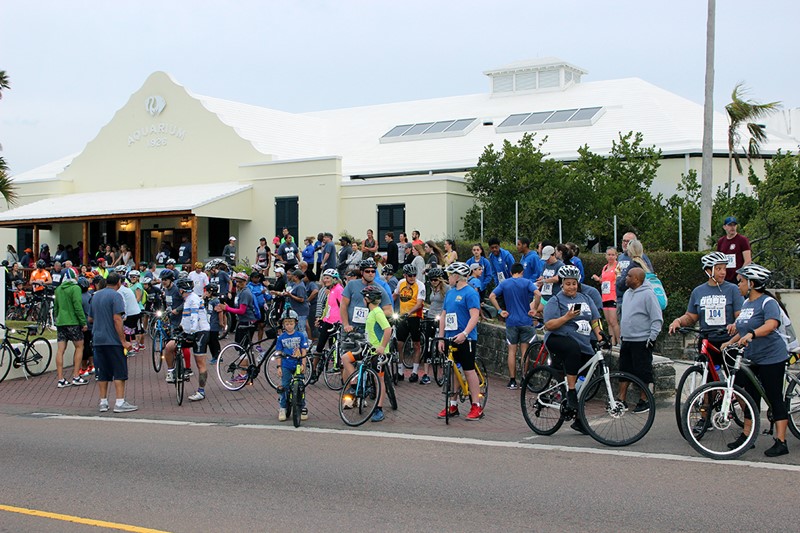 Rowers in Gigs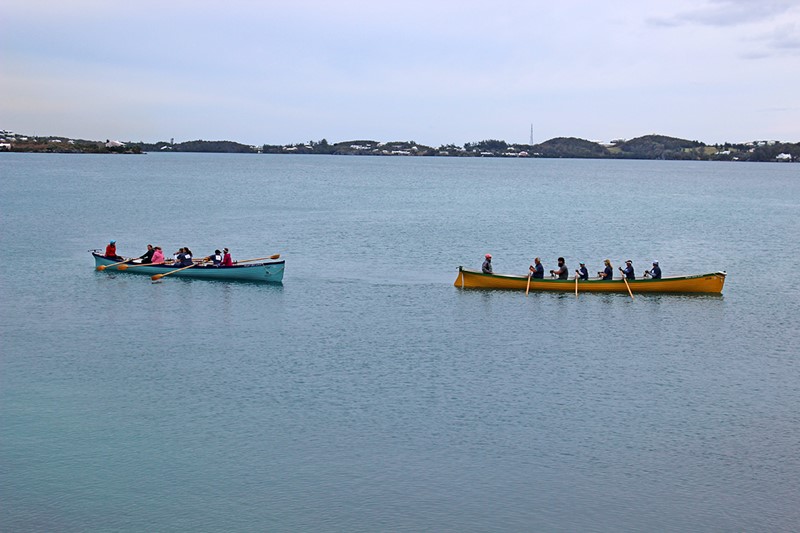 Runners ready to go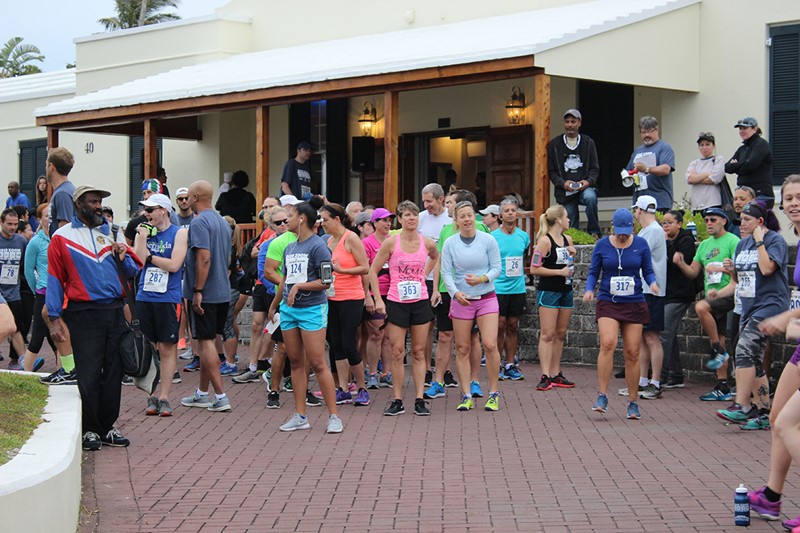 Sunrise at ZOOM