Recent News
The BZS Awards Four Students Environmental Science Scholarships
Wednesday, August 24, 2022
Four Bermudian students have been awarded a combined $15,000 in educational funds as part of the Bermuda Zoological Society's (BZS) annual BZS Steinhoff programme. Osei Agyapong, Imogen Peckett, Logan Soares and Naphisa Smith were selected for their academic achievements and their commitment to protecting the environment.
From Block Island to Montauk Through Sharks, Currents and Cramps
Tuesday, August 23, 2022
Lori King of Long Island finished a nearly 24-mile trip in 8 hours 39 minutes 45 seconds. Once her swim is certified, King will be recognized as the first person to complete the journey.
Hamilton Lions pump up the cash for local charities
Wednesday, July 06, 2022
Two charities reaped $11,000 each thanks to an enduring fundraiser by Hamilton Lions Club.
The proceeds from the club's 53rd annual Gas-O-Rama and raffle draw were presented to Vision Bermuda and the Bermuda Zoological Society.
Aspen Plants First Red Mangroves on Trunk Island
Wednesday, June 22, 2022
On Friday 3rd June, employees from Aspen were excited to plant the first young red mangrove trees in their sponsored Coastal Red Mangrove Forest on Trunk Island – the Bermuda Zoological Society's (BZS) 'Living Classroom'.
One thousand turn up to help celebrate environmental landmarks
Thursday, June 09, 2022
About 1,000 people turned out to the Bermuda Aquarium, Museum and Zoo on Saturday to celebrate World Oceans Day and World Environment Day.
The facility, along with the Bermuda Zoological Society, hosted a free Family Open Day, where they demonstrated their "commitment to ocean conservation".
Community
About Us
Board of Directors
Contact Us
Become a Volunteer
Newsletter
Latest News
Gift & Bookstore
Contact
General Inquiries
info@bzs.bm
Latest News
All the latest updates and news from the Bermuda Aquarium, Museum, and Zoo, one of Bermuda's leading visitor attractions!
BZS To Host Zoom Around The Sound On Sept 18
Press Release - Bernews
Thursday, September 02, 2021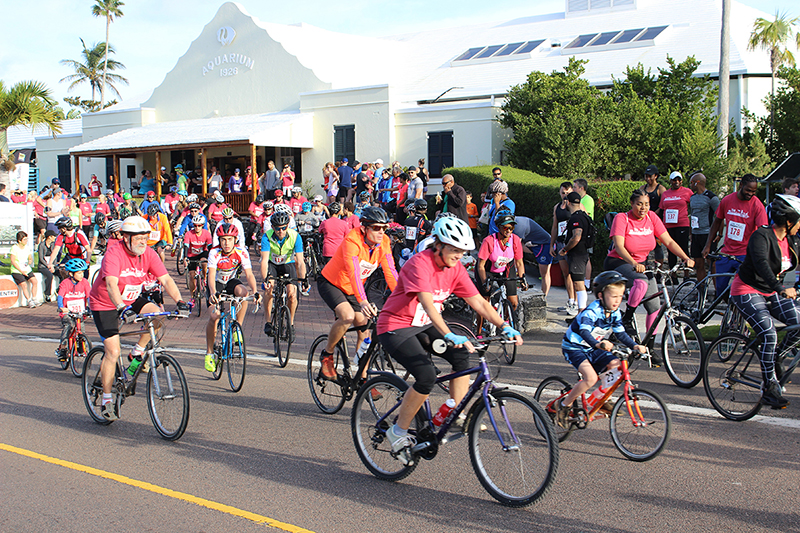 The Bermuda Zoological Society will be holding the annual Zoom Around The Sound event on Saturday, September 18th.
A spokesperson said, "Are you ready to zoom with the Bermuda Zoological Society? Join the annual Zoom Around the Sound event on Saturday, 18th September and help the BZS raise funds for their education and conservation programmes.
"After over a year of virtual activities, Zoom Around the Sound will be held physically at the Bermuda Aquarium, Museum and Zoo [BAMZ] as a Safekey event. This fun event encourages all participants to enjoy the natural beauty of Harrington Sound as they run, walk or cycle around the sound.
"The race route is as follows: start at BAMZ, follow counter clock-wise North Shore Road, Middle Road, Harrington Sound Road, Wilkinson Ave, North Shore and to finish outside BAMZ.
"Safety is key! While walking, running or riding please travel on the left-hand side of the road, in double or single file, keeping on the sidewalks were possible. Please wear protective headgear when riding a bike. Also, obey all traffic signs.
"When you finish your zoom, the generous sponsors, Ben & Jerry's, Seventh Generation, Nature Valley and the staff of Butterfield & Vallis, will have goodies to share!
"Feeling cautious? Not ready to burst your bubble and participate in a physical event? You can still zoom with us! For you, we are also including a virtual event again this year!
"Registration is open here until the morning of the event.
"Drive through to pickup your participant packages at BAMZ on Wednesday, September 15th from 5pm to 7pm.
"Should the in-person event not take place, all registrants will automatically be transferred to our virtual event.
"The shared mission of BZS and BAMZ is to inspire appreciation and care of island environments, and as the support charity for BAMZ, the BZS is an example of a highly successful non-profit/public partnership. Each year the BZS provide more than 8,000 free educational experiences through our Stempel Foundation BZS Schools Programme in addition to popular community programmes for all ages, development of BAMZ exhibits, and conservation and research programmes.
"Each year, BZS Volunteers contribute over 10,000 hours of valuable husbandry support to the Aquarium and Zoo with all programmes being accredited by the Association of Zoos and Aquariums."