Recent News
Environmental science scholarships awarded by BZS
Monday, August 30, 2021
A group of environmental science students have had their hard work rewarded with scholarships from the Bermuda Zoological Society.
BZS Awards Steinhoff Scholarship & Pye Award
Tuesday, August 24, 2021
The Bermuda Zoological Society [BZS] has awarded the BZS Steinhoff Scholarship to Caroline Alexander, Isabella Murdoch, and Treiana Zuill, while Freyja Kermode was the recipient of the Pye award.
Collapse of seagrass beds threatens survival of marine life
Tuesday, August 17, 2021
The Bermuda Turtle Project is anxious to get back out onto the water this month to get a clearer picture of sea turtle abundance. Due to the restrictions brought upon us all by the pandemic, we have been unable to do any in-water research for nearly two years and it would appear, from observations, there have been some drastic changes in our marine environment.
Seagrass beds have 'completely collapsed' in last four years
Tuesday, August 17, 2021
Many acres of seagrass beds crucial for the survival of sea turtles and other marine life have "completely collapsed" over the last four years, according to a leading environmental group.
BZS's Kids on the Reef programme: an insider's look
Wednesday, August 11, 2021
The Bermuda Zoological Society recently completed its ninth year of the Kids on the Reef programme, which is generously sponsored by AXA XL. This year, the BZS sent Megan Dodd, a university student studying strategic communications and marketing, out with a student group so that she could provide a first-hand account of what the students experience and learn over the two-day programme.
Community
About Us
Board of Directors
Contact Us
Become a Volunteer
Newsletter
Latest News
Trunk Island
Gift & Bookstore
Contact
General Inquiries
info@bzs.bm
Latest News
All the latest updates and news from the Bermuda Aquarium, Museum, and Zoo, one of Bermuda's leading visitor attractions!
BZS workshop shows how to measure programmes' success
Royal Gazette - Gareth Finighan
Tuesday, June 15, 2021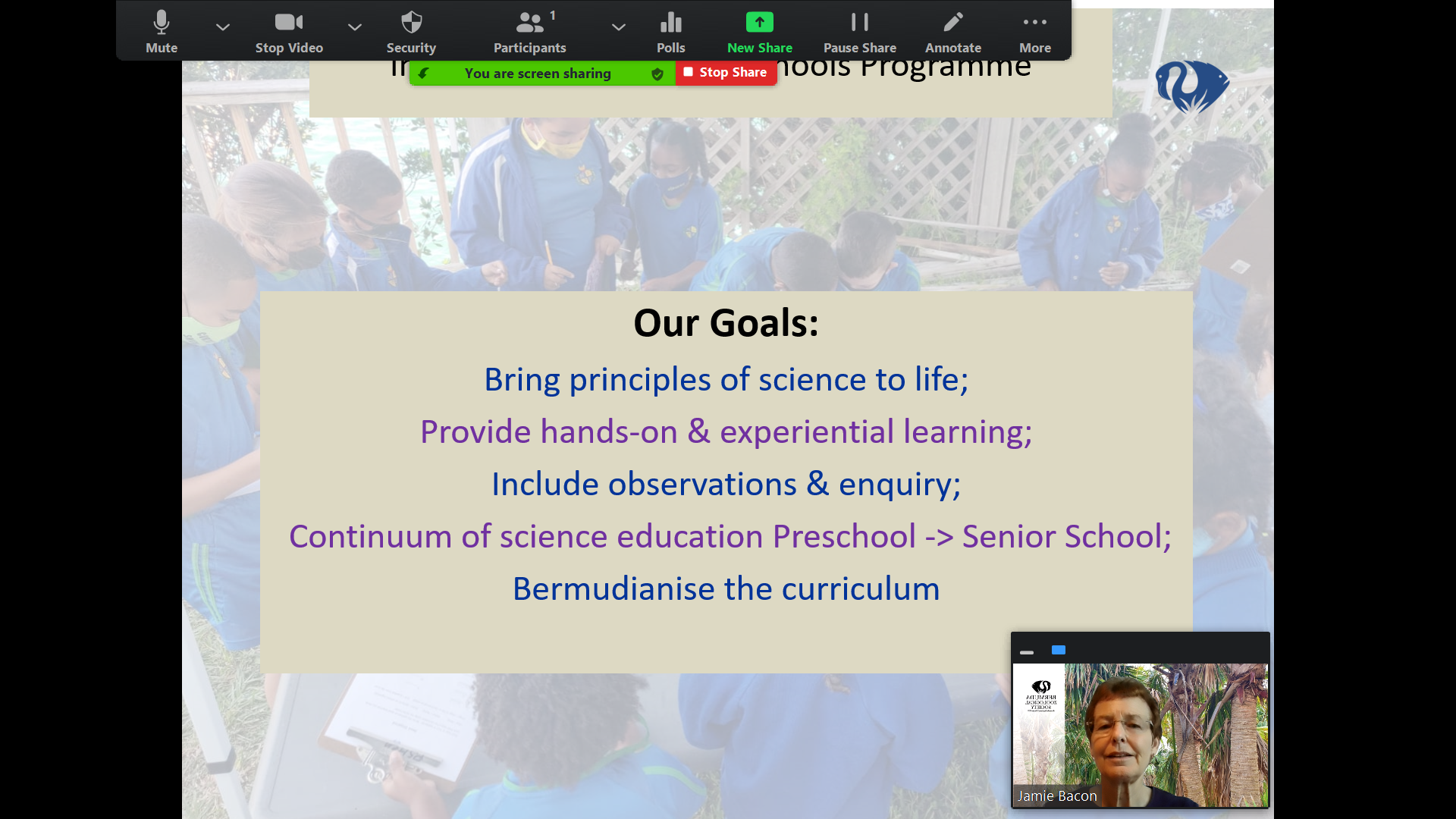 The Bermuda Zoological Society has held an online workshop for non-governmental organisations that showed how to gather statistics to measure the success of academic programmes.
A BZS spokeswoman said the aim of the one-day virtual workshop was "to help establish relationships and collaborative networks among the participants, provide opportunities to learn as well as reflect on current practices, and to provide insight and support to others through brainstorming sessions".
She added: "The 'gallery walk' component of the workshop provided opportunities for participants to share challenges they face in meeting their organisation's goals.
"The subsequent collaborative brainstorm sessions allowed participants to give positive suggestions to other participants on what might help them meet their challenges in the future."
The workshop was funded by the Centennial Foundation Committee and coordinated by the Inter Agency Committee for Children and Families.
Jamie Bacon, the BZS education officer, said: "To provide donors with the quantitative data they require, the BZS developed the generating academic success in science programme, which includes both a pre- and post-assessment."
Dr Bacon added: "Results from the assessments provided numeric data to donors which revealed a marked improvement in student assessment scores after they completed the Gass programme."
It is expected that the workshop will be the first of a series that will examine programme design, implementation, and evaluation.