Recent News
Bermuda's coral reefs 'doing well' but future is uncertain
Tuesday, August 10, 2021
Bermuda's coral reefs could help to protect the island from strengthening storms – if we are able to keep them healthy.
BZS: Kids On The Reef Programme
Wednesday, August 04, 2021
The Bermuda Zoological Society [BZS] recently completed the ninth year of the Kids on the Reef spring programme, "an immersion programme teaching children the significance of marine conservation and the skills of free-diving.
No vaccinations for BAMZ animals, yet
Tuesday, August 03, 2021
The residents of the Bermuda Aquarium Museum and Zoo have not received Covid-19 vaccinations, but that could change as research continues.
Mangrove forest project gets boost from Aspen donation
Tuesday, July 13, 2021
An environmental drive to create a coastal red mangrove forest on Trunk Island has been boosted by a $125,000 donation from Aspen Bermuda.
Support Creation Of Coastal Mangrove Forest
Tuesday, July 13, 2021
The Bermuda Zoological Society [BZS] has received a donation from Aspen Bermuda Limited to support the creation of a "Coastal Red Mangrove Forest" on Trunk Island.
Community
About Us
Board of Directors
Contact Us
Become a Volunteer
Newsletter
Latest News
Gift & Bookstore
Contact
General Inquiries
info@bzs.bm
Latest News
All the latest updates and news from the Bermuda Aquarium, Museum, and Zoo, one of Bermuda's leading visitor attractions!
Garden Club Of Bermuda Donates $10K To BZS
Press Release - Bernews
Tuesday, June 15, 2021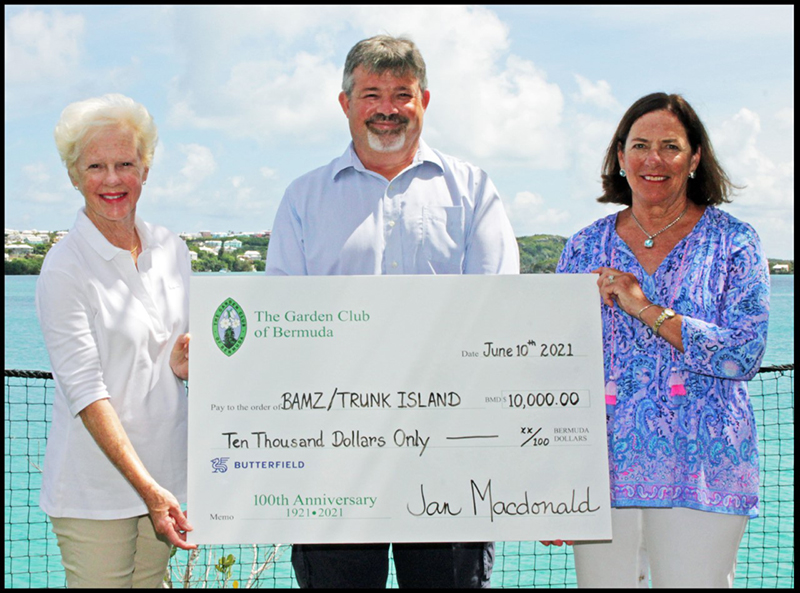 The Garden Club Of Bermuda has made a donation of $10,000 to the Bermuda Zoological Society [BZS] for their Trunk Island 'Funding the Future' project.
A spokesperson said, "Trunk Island, a living classroom educating tomorrow's environmentalists, is the aim of Bermuda Zoological Society [BZS].
"In order to achieve this goal, Trunk Island is undergoing a complete restoration; eradicating invasive flora, planting endemics, reforesting with Bermuda Cedars and conducting any other conservation based activities. A cottage has also been transformed into a functional classroom.
"The Garden Club of Bermuda is pleased to support this worthwhile endeavour and, as part of its 100th anniversary, donated $10,000 to the BZS for their project on Trunk Island 'Funding the Future.' We believe that this gift will make a difference to Bermuda, the students and future generations."
Colin Brown, President of the BZS, said, "We are very grateful to the Garden Club of Bermuda for recognizing our Living Classroom as a project worthy of support for their 100th anniversary. This donation will be used to educate young people about Bermuda's natural environment while also restoring Trunk Island to native and endemic forest."