Recent News
Environmental science scholarships awarded by BZS
Monday, August 30, 2021
A group of environmental science students have had their hard work rewarded with scholarships from the Bermuda Zoological Society.
BZS Awards Steinhoff Scholarship & Pye Award
Tuesday, August 24, 2021
The Bermuda Zoological Society [BZS] has awarded the BZS Steinhoff Scholarship to Caroline Alexander, Isabella Murdoch, and Treiana Zuill, while Freyja Kermode was the recipient of the Pye award.
Collapse of seagrass beds threatens survival of marine life
Tuesday, August 17, 2021
The Bermuda Turtle Project is anxious to get back out onto the water this month to get a clearer picture of sea turtle abundance. Due to the restrictions brought upon us all by the pandemic, we have been unable to do any in-water research for nearly two years and it would appear, from observations, there have been some drastic changes in our marine environment.
Seagrass beds have 'completely collapsed' in last four years
Tuesday, August 17, 2021
Many acres of seagrass beds crucial for the survival of sea turtles and other marine life have "completely collapsed" over the last four years, according to a leading environmental group.
BZS's Kids on the Reef programme: an insider's look
Wednesday, August 11, 2021
The Bermuda Zoological Society recently completed its ninth year of the Kids on the Reef programme, which is generously sponsored by AXA XL. This year, the BZS sent Megan Dodd, a university student studying strategic communications and marketing, out with a student group so that she could provide a first-hand account of what the students experience and learn over the two-day programme.
Community
About Us
Board of Directors
Contact Us
Become a Volunteer
Newsletter
Latest News
Trunk Island
Gift & Bookstore
Contact
General Inquiries
info@bzs.bm
Latest News
All the latest updates and news from the Bermuda Aquarium, Museum, and Zoo, one of Bermuda's leading visitor attractions!
'Living Classroom' gets $10,000 donation from Bermuda Garden Club
Royal Gazette - Sarah Lagan
Thursday, June 24, 2021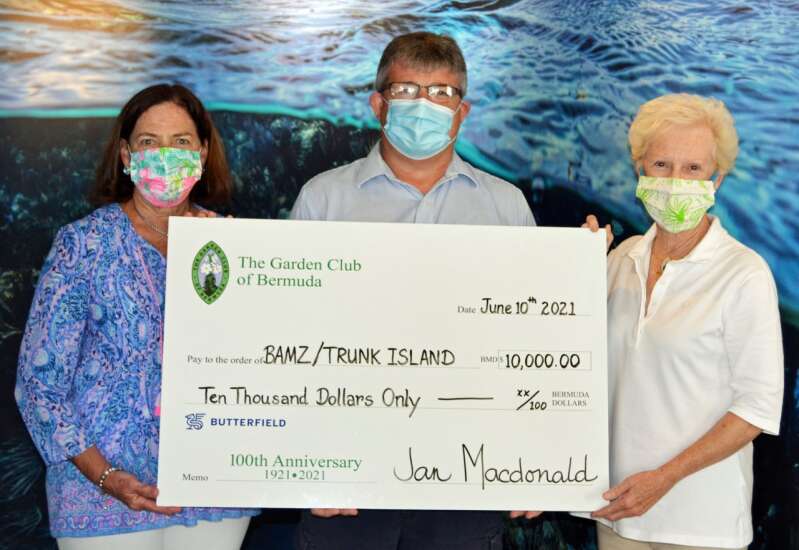 The "Living Classroom" on Trunk Island has benefited from a $10,000 donation by the Garden Club of Bermuda.
The Bermuda Zoological Society runs the living classroom project on the Hamilton Parish island with the aim of educating tomorrow's environmentalists.
A spokeswoman for the Club, which made the donation as part of its 100th anniversary activities, said: "The Garden Club of Bermuda is pleased to support this worthwhile endeavour.
"We believe that this gift will make a difference to Bermuda, the students and future generations."
Trunk Island is undergoing a complete restoration – eradicating invasive flora, planting endemics, reforesting with Bermuda cedar trees among other conservation efforts.
A cottage on the island has also been transformed into a functional classroom.
Colin Brown, president of BZS, said: "We are very grateful to the Garden Club of Bermuda for recognising our Living Classroom as a project worthy of support for their 100th anniversary.
"This donation will be used to educate young people about Bermuda's natural environment while also restoring Trunk Island to native and endemic forest."