Recent News
'Living Classroom' gets $10,000 donation from Bermuda Garden Club
Thursday, June 24, 2021
The "Living Classroom" on Trunk Island has benefited from a $10,000 donation by the Garden Club of Bermuda.
Garden Club Of Bermuda Donates $10K To BZS
Tuesday, June 15, 2021
The Garden Club Of Bermuda has made a donation of $10,000 to the Bermuda Zoological Society [BZS] for their Trunk Island 'Funding the Future' project.
BZS workshop shows how to measure programmes' success
Tuesday, June 15, 2021
The Bermuda Zoological Society has held an online workshop for non-governmental organisations that showed how to gather statistics to measure the success of academic programmes.
BZS Holds Professional Development Workshop
Tuesday, June 15, 2021
The Bermuda Zoological Society [BZS] recently held an online professional development workshop for 13 participants, representing nine different non-governmental organizations [NGOs].
Week to highlight sharks to launch next Monday
Thursday, June 03, 2021
The Bermuda Zoological Society today announced virtual Shark Week.
The event will offer daily presentations from experts and marine experts and will also coincide with the BZS's World Ocean Day celebration on June 8.
Community
About Us
Board of Directors
Contact Us
Become a Volunteer
Newsletter
Latest News
Trunk Island
Gift & Bookstore
Contact
General Inquiries
info@bzs.bm
Latest News
All the latest updates and news from the Bermuda Aquarium, Museum, and Zoo, one of Bermuda's leading visitor attractions!
Winnie celebrates 103rd birthday with a tree planting
Royal Gazette - Sékou Hendrickson
Friday, April 16, 2021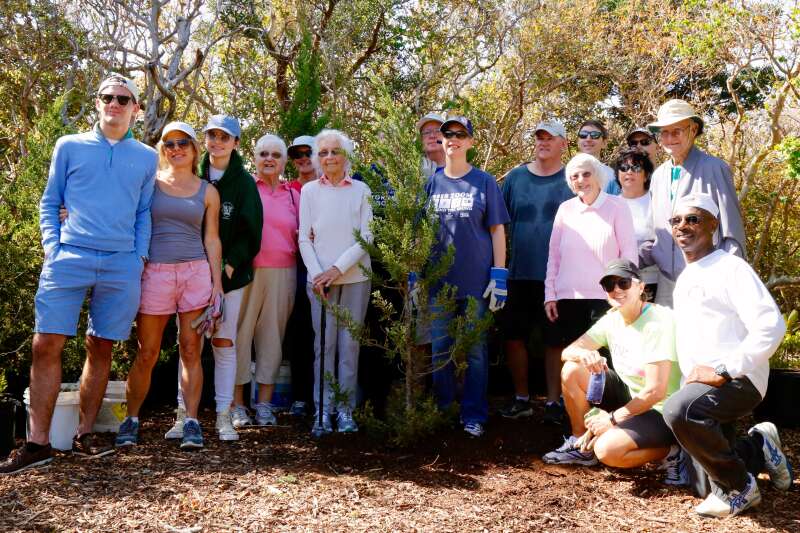 Centenarian Winnie Oatley celebrated her 103rd birthday by planting a cedar tree at a nature reserve,
Ms Oatley was joined by her family and members of the Bermuda Zoological Society to mark the special occasion, on Trunk Island in Harrington Sound.
The planting was part of an annual tradition started in 2018, when Ms Oatley was adamant about not receiving a gift when she turned 100.
Robert Blee, her grandson, and a volunteer with BZS's Weekend Warriors, worked with the group to develop a tree-planting campaign in his grandmother's name.
Since then, the family have asked family and friends every year around Ms Oatley's birthday to donate enough funds to plant trees on Trunk Island.
Mr Blee, who helped his grandmother plant a tree alongside his three brothers, said Ms Oatley had many stories to tell including the time she walked home during a hurricane.
Mr Blee said: "She was taking the train home to St. George's from her job at Miles grocery store in Hamilton.
"Without the Bermuda Weather Service, no one knew that a hurricane would be bearing down on the island that day and as the train headed up Crawl Hill falling trees blocked the track.
"I asked Granny how she got home – she said 'we got home the only way we could – we walked.'
"With the hurricane still blowing, she finally made it home several hours later; her mother, understandably, was beside herself."
Colin Brown, the president of the BZS, said: "BZS is extremely grateful to Winnie's family and friends.
"It was through their generosity on Winnie's 100th that we were able to create a native nursery on Trunk Island to house the Island's future generations of trees.
"I was delighted to welcome back the Blee brothers to celebrate their grandmother's 103rd and see them teaming up with our Weekend Warriors to care for the island and plant another cedar."