Recent News
'Living Classroom' gets $10,000 donation from Bermuda Garden Club
Thursday, June 24, 2021
The "Living Classroom" on Trunk Island has benefited from a $10,000 donation by the Garden Club of Bermuda.
Garden Club Of Bermuda Donates $10K To BZS
Tuesday, June 15, 2021
The Garden Club Of Bermuda has made a donation of $10,000 to the Bermuda Zoological Society [BZS] for their Trunk Island 'Funding the Future' project.
BZS workshop shows how to measure programmes' success
Tuesday, June 15, 2021
The Bermuda Zoological Society has held an online workshop for non-governmental organisations that showed how to gather statistics to measure the success of academic programmes.
BZS Holds Professional Development Workshop
Tuesday, June 15, 2021
The Bermuda Zoological Society [BZS] recently held an online professional development workshop for 13 participants, representing nine different non-governmental organizations [NGOs].
Week to highlight sharks to launch next Monday
Thursday, June 03, 2021
The Bermuda Zoological Society today announced virtual Shark Week.
The event will offer daily presentations from experts and marine experts and will also coincide with the BZS's World Ocean Day celebration on June 8.
Community
About Us
Board of Directors
Contact Us
Become a Volunteer
Newsletter
Latest News
Trunk Island
Gift & Bookstore
Contact
General Inquiries
info@bzs.bm
Latest News
All the latest updates and news from the Bermuda Aquarium, Museum, and Zoo, one of Bermuda's leading visitor attractions!
Students get virtual lessons on ocean conservation
Royal Gazette - Sarah Lagan
Friday, April 09, 2021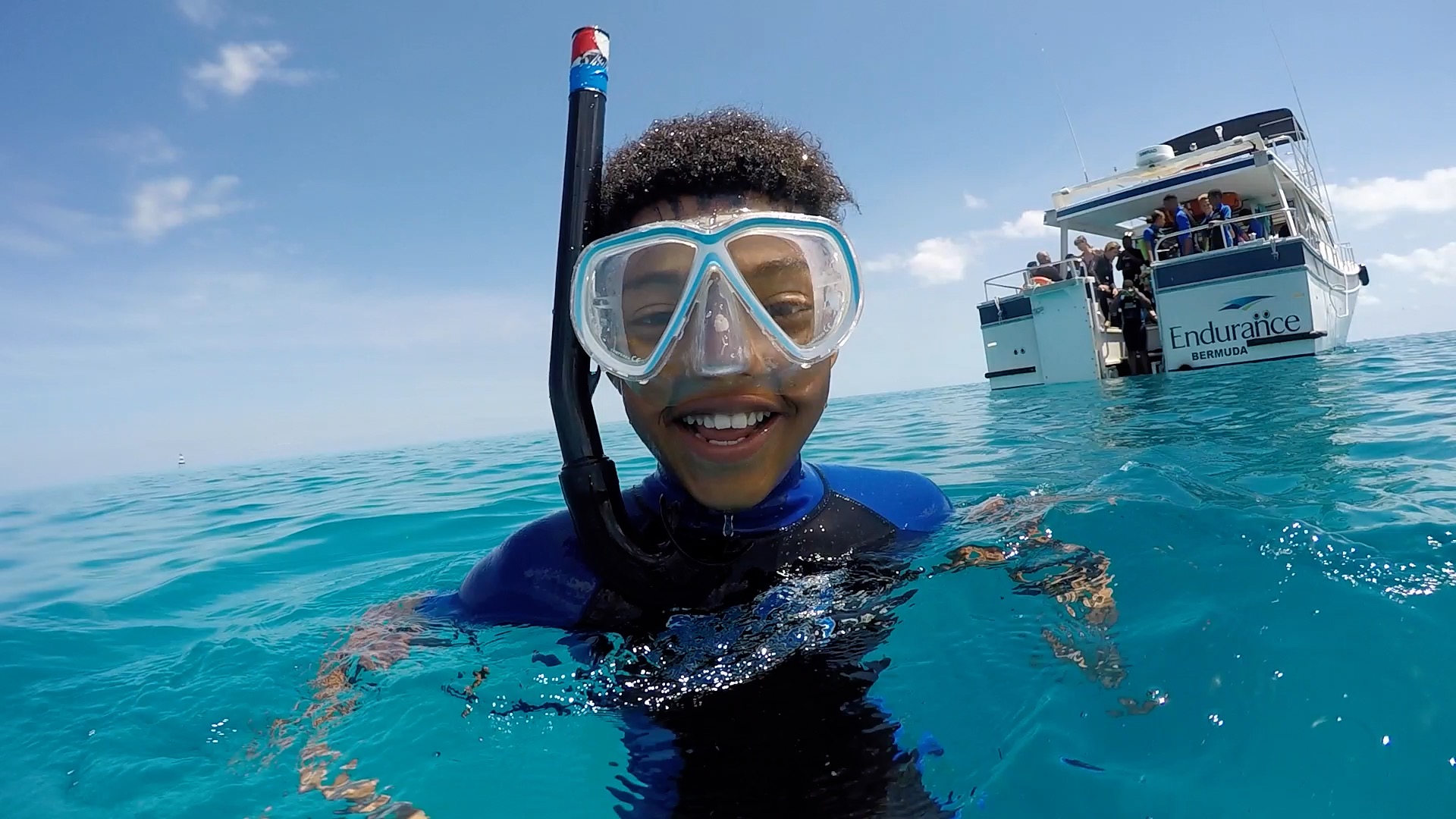 Students have been able to participate virtually in a programme teaching them about ocean conservation and how to be confident in the water.
Thanks to sponsorship from AXA XL, part of the Kids on the Reef programme for students attending public middle schools was able to take place online.
The Bermuda Zoological Society programme usually takes place over two days at the Bermuda Aquarium, Museum and Zoo and includes confined water and open water free-diving instruction, and classroom teaching.
During lockdown last spring owing to the Covid-19 pandemic, the organisers created a way to deliver content to students virtually.
Educators used video lessons, Zoom classes and pre-recorded instructional videos when conducting their online spring camp.
Alex Amat, BZS educator and Beth Neale, programme coordinator, used the same tactics to bring part of the programme to eight public school classes from Dellwood, Clearwater and Sandys, which included 120 students.
Dr Amat and Ms Neal used Zoom classes to teach the students breathing techniques, free-diving theory and stretches, and included lectures on ocean conservation to reinforce the students' school curriculum.
They also produced instructional breathing class videos and video lectures for those unable to attend via Zoom.
Students still needed to complete the confined water and open water free-diving instructional portion of the programme.
In the fall of 2020, the relaxed government restrictions for Covid-19 enabled the programme coordinators to provide the in-water opportunity to 85 students from Dellwood Middle School, many of whom had previously completed the class components virtually.
For those students who had been unable to complete the virtual component in the spring, they were able to complete all segments of the programme on site at BAMZ.
Dr Amat said: "Meeting the students online allowed us to keep in touch with them and make them feel they were part of something larger and more tangible. They knew the in-water component would happen in the future, which was an incentive.
"It would not have happened without the commitment of their science teachers who understood the need to be flexible and approached the programme with an open mind.
"We are really grateful to our sponsor AXA XL for believing in us to create this virtual offering and enabling us to continue sharing our ocean passion."