Recent News
'The Hunt' Was On For Families Over Holiday
Tuesday, January 12, 2021
Over 80 families registered 'The Hunt', and those taking part have been able to experience and learn more about their island they thought they knew so well.
Rubis calendars will now be sold
Tuesday, December 08, 2020
After 42 years of being free, the Rubis calendar will now cost $5 each.
Aquarium junior volunteers get chance to complete programme
Thursday, December 03, 2020
Pupils enrolled in a competitive volunteer programme through the Bermuda Zoological Society have been given a second chance to complete it in the wake of Covid-19.
Bermuda Turtle Project Continues Research
Monday, October 15, 2018
The Bermuda Zoological Society in partnership with the Sea Turtle Conservancy completed another research and education programme this year, with the Bermuda Turtle Project committed to the goal of promoting the conservation of marine turtlesthrough research and education.
Turtles show their faces on Church Street
Saturday, October 13, 2018
The Bermuda Post Office has marked the 50th anniversary of the Bermuda Turtle Project with a series of postal panels featuring special stamps.
Community
About Us
Board of Directors
Contact Us
Become a Volunteer
Newsletter
Latest News
Gift & Bookstore
Contact
General Inquiries
info@bzs.bm
Latest News
All the latest updates and news from the Bermuda Aquarium, Museum, and Zoo, one of Bermuda's leading visitor attractions!
KPMG Staff Members Help 'Make A Difference'
Bernews
Wednesday, June 27, 2018
On Friday, June 22nd, KPMG in Bermuda closed its doors for half a day enabling over 120 staff members to participate in the firm's annual Make a Difference Day [MaDD].
This year, KPMG supported The Bermuda National Trust's historic property, Verdmont, and The Bermuda Zoological Society's "Living Classroom" on Trunk Island.
At Verdmont, two teams focused on culling invasive plants, clearing debris and beautifying the landscape. Inside the historic property, a third team cleaned, polished and refreshed the museum.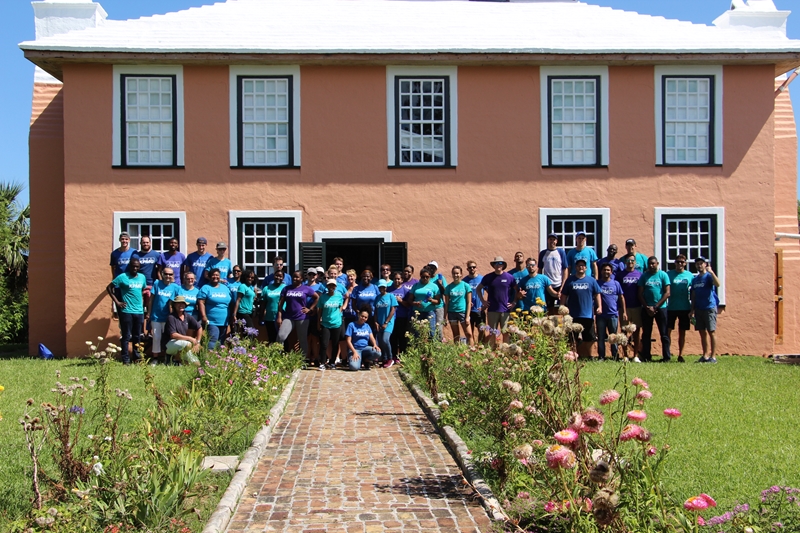 A further two landscaping teams cleared vegetation at Trunk and Crow islands in Harrington Sound. In addition, staff completed general cleaning of the education building and a dedicated group prepared and installed pre-fabricated igloos for longtail nesting.
President of the Bermuda Zoological Society [BZS], Colin Brown said, "We could not do this project without help, whether it be financially or in the giving of time. We are extremely grateful to KPMG for their long-term assistance of the BZS and choosing Trunk Island as part of their charitable day of giving".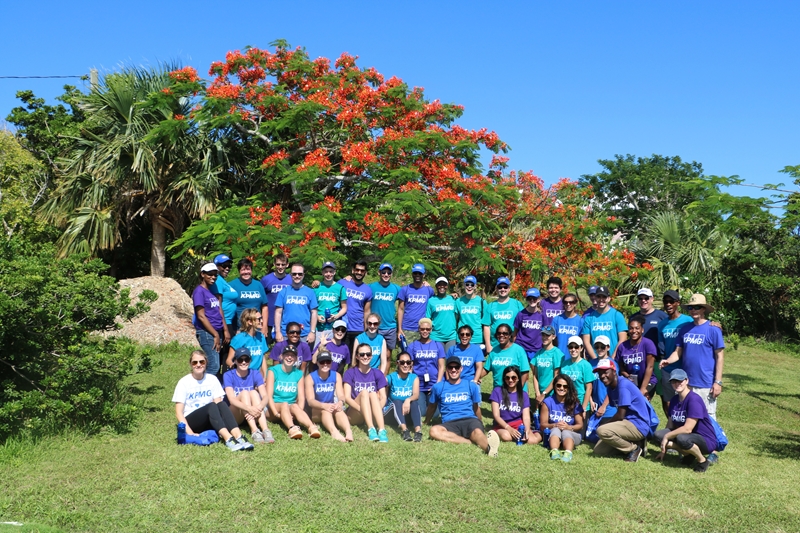 Lawrence Doughty, Conservation Officer for the Bermuda National Trust, happily welcomed KPMG's assistance: "KPMG staff were an amazing help to us at Verdmont. They helped to clear the grounds and gardens of pest plants and trees – no small task considering the heat.
"They persisted and reopened woodland paths and cleared the orchard of overgrowth. The gardens look so much better! On behalf of the Bermuda National Trust, I thank KPMG and its staff for their help as part of 'Make a Difference Day'".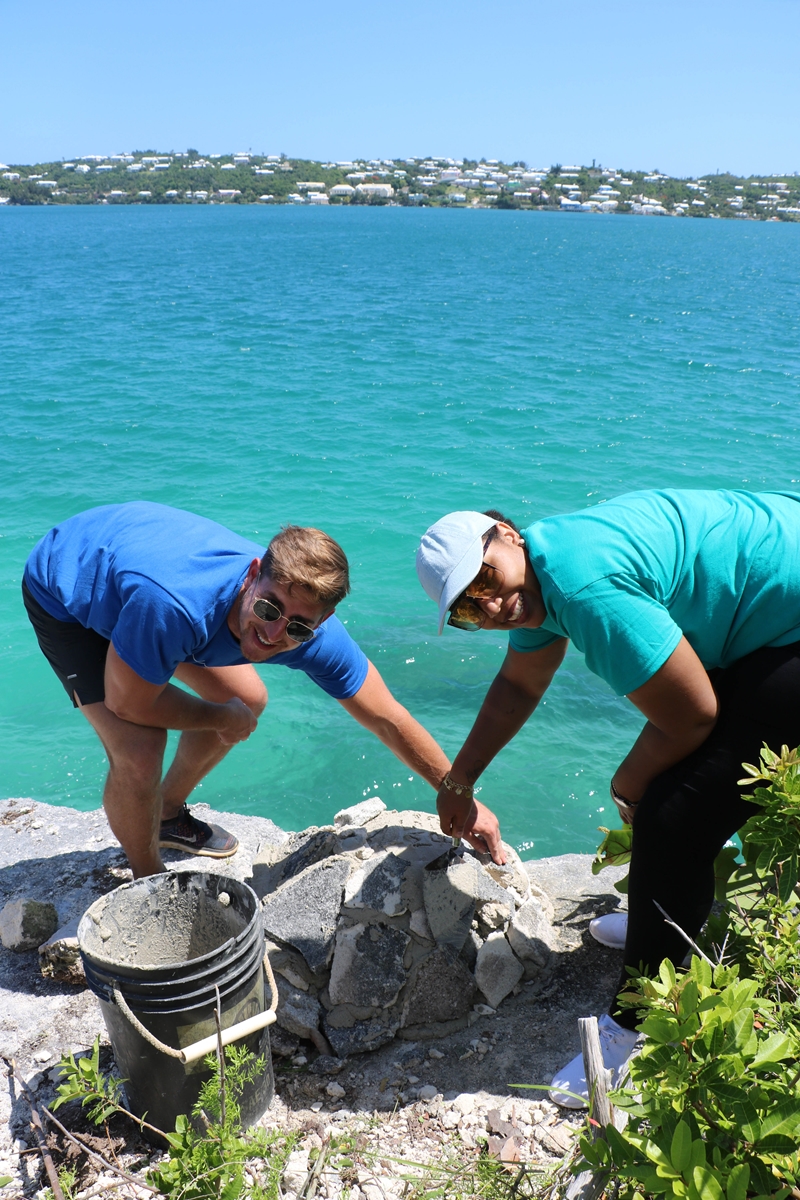 Joining the KPMG teams at each location, KPMG's adopted school, Dellwood Middle School students had the opportunity to take an in-depth educational tour of Verdmont and learned about the conservation efforts that take place on Trunk Island.
Yahni Hill, a student from Dellwood noted, "I had a very good experience with KPMG. I got to see different trees that I did not know about before, like the spice tree on Trunk Island. I enjoyed visiting Verdmont and Trunk Island, because I got to see how much effort people were giving to clean up Bermuda and visit new areas of the island. Thank you KPMG, I enjoyed the experiences!"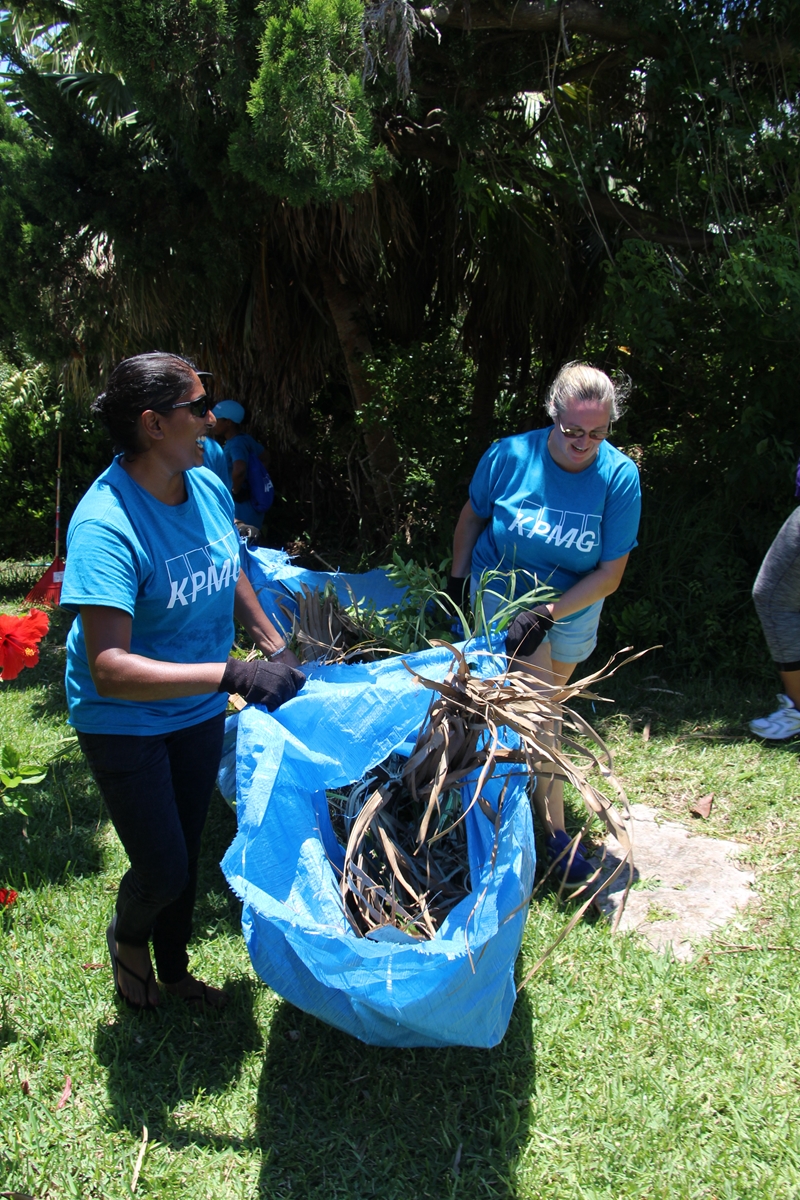 Sam Mawoyo, KPMG Advisory Senior and organiser of the event said, "KPMG are proud to have accomplished another successful Make a Difference Day. We thank the Bermuda Zoological Society and the Bermuda National Trust for allowing our teams to positively contribute to Bermuda.
The company said, "Along with students from Dellwood, our staff members enjoyed learning about the ecological and educational importance of Trunk Island and Verdmont Museum whilst lending their time, skills and energy to the projects.
"KPMG is proud of its leading Corporate Citizenship programme and looks forward to continuing to make a difference in Bermuda."