Recent News
Educational treat at Trunk Island
Thursday, June 14, 2018
Warwick Academy's Eco Club students Luke Foster, Grace Flannery, Katya Williamson, Jibril Taylor, Isabel Hughes, Roxy Crockwell-Laurent and Rip Crockwell-Laurent), enjoyed a joyful and enlightening trip to Trunk Island, Harrington Sound.
KBB celebrates World Oceans Day
Friday, June 08, 2018
In celebration of World Oceans Day, Keep Bermuda Beautiful (KBB) has lined up several events for June 7 — 9.
Prevent plastic pollution
Thursday, June 07, 2018
Today, June 8th, is World Oceans Day, and the theme for this year is the prevention of plastic pollution to encourage healthy oceans. On World Oceans Day, people around our blue planet celebrate and honour the ocean, which connects us all.
Ministry On Sightings Of Hammerhead Shark
Wednesday, June 06, 2018
Following the most recent shark sighting at Shelly Bay, the Ministry said it is likely the same one as seen over the past few months and said that while there is no need for alarm, "under no circumstances should anyone attempt to approach or handle the shark in any way."
Expert: hammerhead no threat to humans
Tuesday, June 05, 2018
A six-foot hammerhead shark spotted cruising close to the shore is unlikely to be a threat to humans, marine experts said yesterday.
Community
About Us
Board of Directors
Contact Us
Become a Volunteer
Newsletter
Latest News
Trunk Island
Gift & Bookstore
Contact
General Inquiries
info@bzs.bm
Latest News
All the latest updates and news from the Bermuda Aquarium, Museum, and Zoo, one of Bermuda's leading visitor attractions!
First Longtail release of the year
Bermuda Zoological Society
Friday, June 01, 2018

Excerpt WILD News June 2018.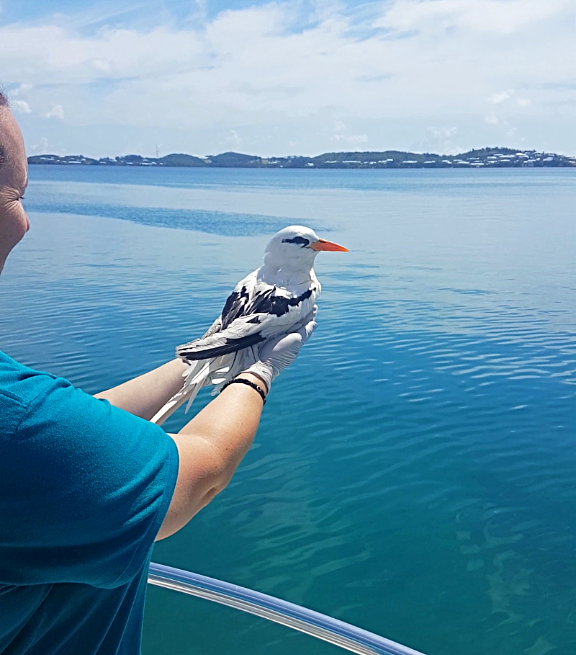 In the early morning of Monday, 28th May, Roma Hayward, Animal Care and Quarantine Officer, released our first rehabilitated longtail of the season.
The longtail was received by Bermuda Aquarium, Museum and Zoo (BAMZ) Aquarist, Jorge Sanchez, on Sunday, 27th May, after Tracy Peterson and her family rescued the bird from their property.
The family had been out boating all day, and when they returned home their dog, Daisy, ran over to their water tank and started to paw at it. Upon investigating what was bothering Daisy, they discovered that a longtail had found its way into their tank.
Tracy immediately contacted BAMZ about what they should do with the bird, as they were concerned that it could be injured. Jorge immediately went to the property and removed the bird from the water tank.
Upon arrival at BAMZ, the bird was examined and it was determined that it had not sustained any injuries, but that it did need to stay overnight for rest and to be monitored. In the morning of the 28th, the bird was reexamined for injuries and then cleared for release. It was also fitted with an identification band so that it could be identified if found in the future.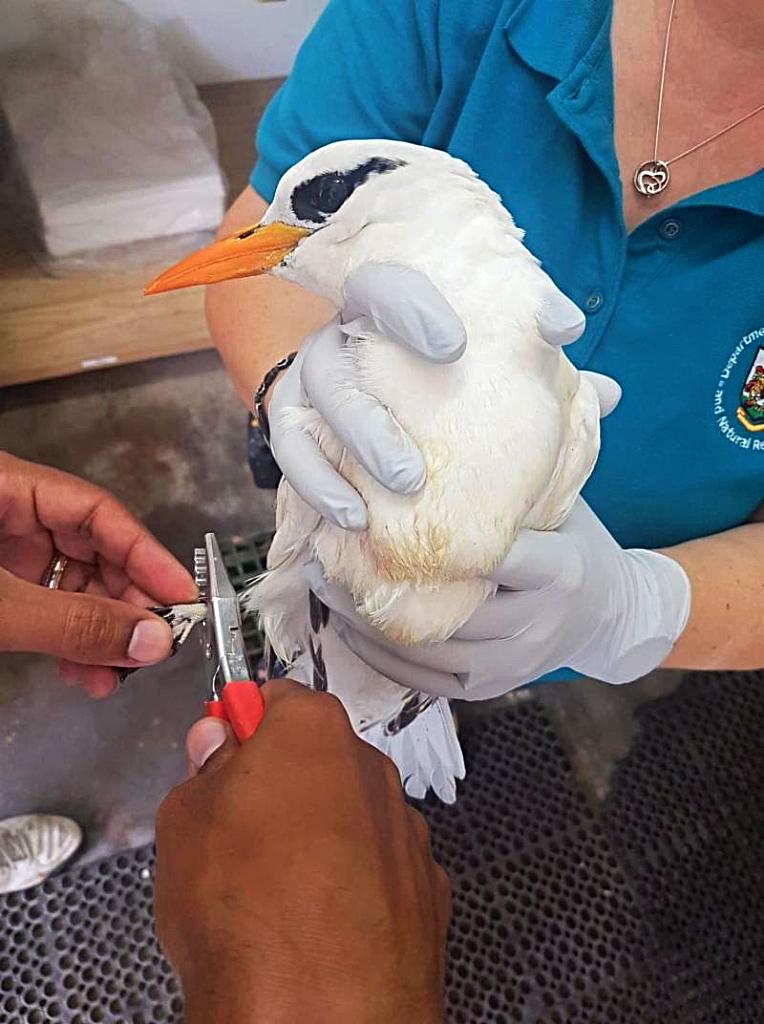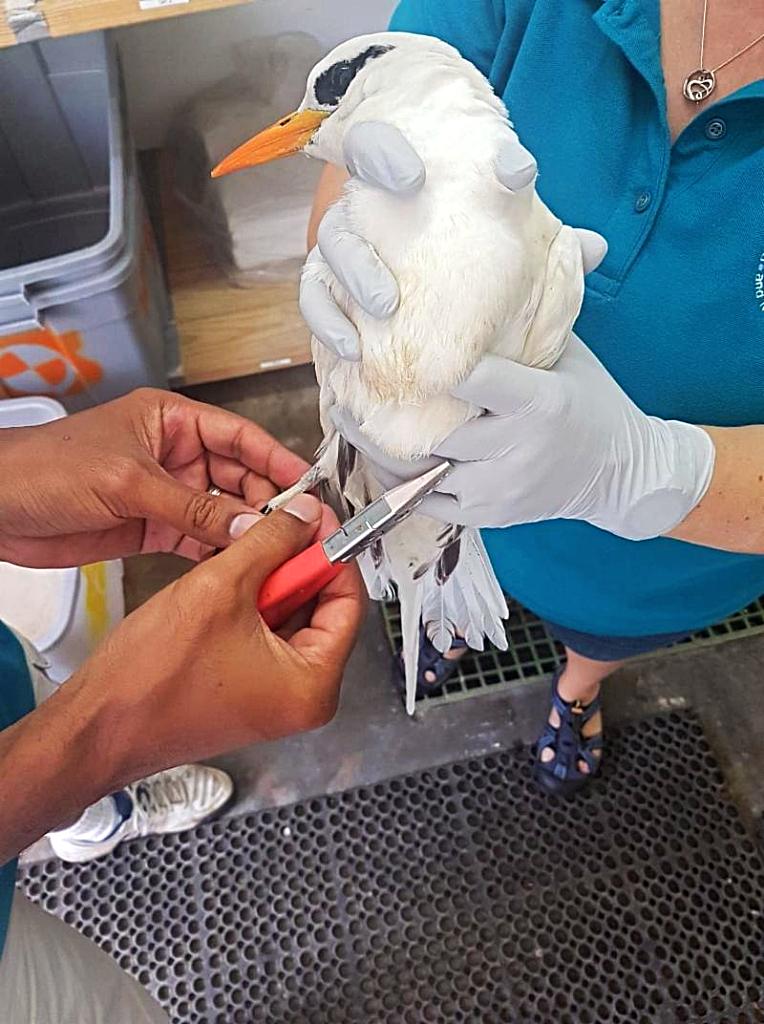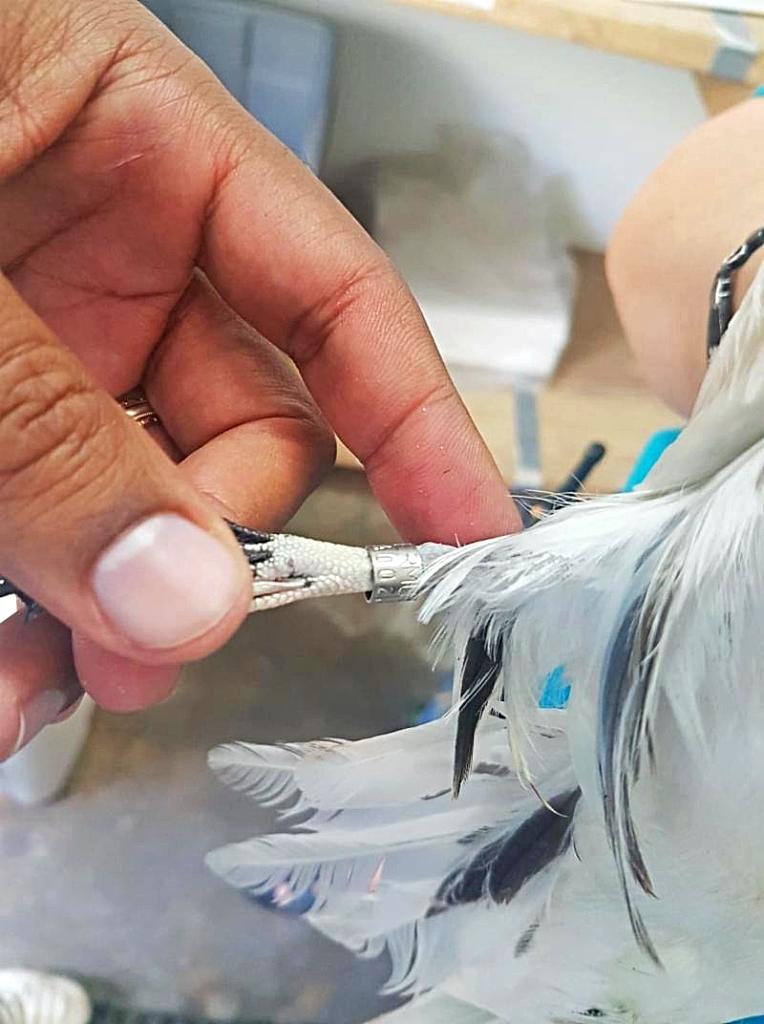 Typically, when we receive longtail chicks we rehabilitate them to the point of release. We aim to take them to Nonsuch Island, where they can be released from an elevated altitude, to give the bird the best possible chance at its first flight. However, as this was an adult longtail that we received, we released it from our docked boat Callista.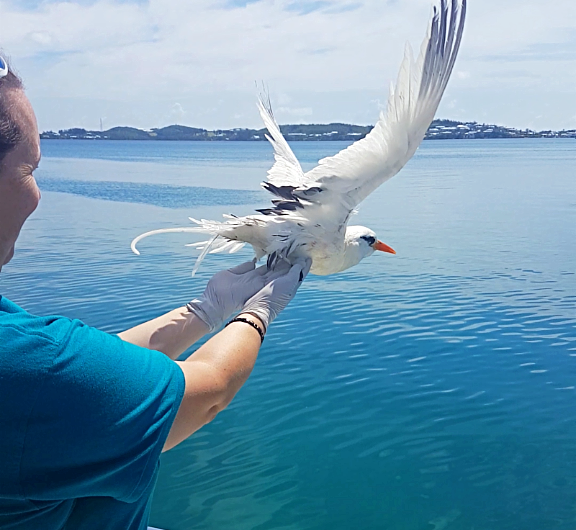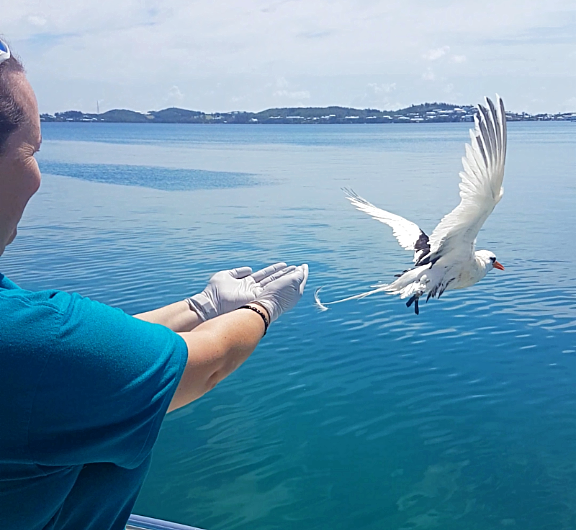 If you encounter a similar situation, where you discover an injured animal on your property or in the wild, please either contact BAMZ at (441) 293-2727 or download the Animal strandings and marine emergencies contact form.