Recent News
Column: Sea Turtles Nesting Here & Abroad
Wednesday, August 01, 2018
The summer months are typically nesting season for sea turtles in our region. With Bermuda's nesting sea turtles extirpated by the late 1800's, the idea of sea turtles nesting on our shores again causes great excitement.
'Adventure At The Aquarium' Tomorrow
Sunday, July 29, 2018
A free event titled 'Bermuda Adventure @ The Aquarium' is set to be held tomorrow [July 30] from 6.00pm to 8.00pm, with attendees able to "learn a little about our ocean, our heritage, and ourselves, and have a bit of fun."
Learn your heritage at family event
Friday, July 27, 2018
Community groups have arranged a family-friendly event to launch Cup Match week.
KPMG Staff Members Help 'Make A Difference'
Wednesday, June 27, 2018
On Friday, June 22nd, KPMG in Bermuda closed its doors for half a day enabling over 120 staff members to participate in the firm's annual Make a Difference Day [MaDD].
Educational treat at Trunk Island
Thursday, June 14, 2018
Warwick Academy's Eco Club students Luke Foster, Grace Flannery, Katya Williamson, Jibril Taylor, Isabel Hughes, Roxy Crockwell-Laurent and Rip Crockwell-Laurent), enjoyed a joyful and enlightening trip to Trunk Island, Harrington Sound.
Community
About Us
Board of Directors
Contact Us
Become a Volunteer
Newsletter
Latest News
Gift & Bookstore
Contact
General Inquiries
info@bzs.bm
Latest News
All the latest updates and news from the Bermuda Aquarium, Museum, and Zoo, one of Bermuda's leading visitor attractions!
First Longtail release of the year
Bermuda Zoological Society
Friday, June 01, 2018

Excerpt WILD News June 2018.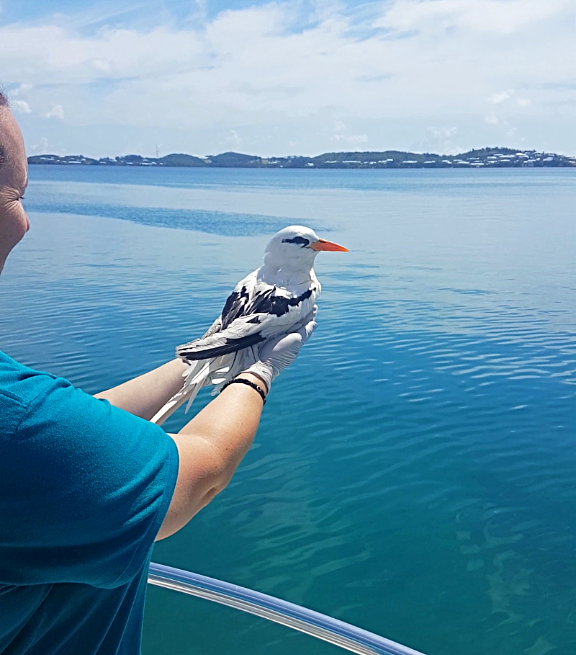 In the early morning of Monday, 28th May, Roma Hayward, Animal Care and Quarantine Officer, released our first rehabilitated longtail of the season.
The longtail was received by Bermuda Aquarium, Museum and Zoo (BAMZ) Aquarist, Jorge Sanchez, on Sunday, 27th May, after Tracy Peterson and her family rescued the bird from their property.
The family had been out boating all day, and when they returned home their dog, Daisy, ran over to their water tank and started to paw at it. Upon investigating what was bothering Daisy, they discovered that a longtail had found its way into their tank.
Tracy immediately contacted BAMZ about what they should do with the bird, as they were concerned that it could be injured. Jorge immediately went to the property and removed the bird from the water tank.
Upon arrival at BAMZ, the bird was examined and it was determined that it had not sustained any injuries, but that it did need to stay overnight for rest and to be monitored. In the morning of the 28th, the bird was reexamined for injuries and then cleared for release. It was also fitted with an identification band so that it could be identified if found in the future.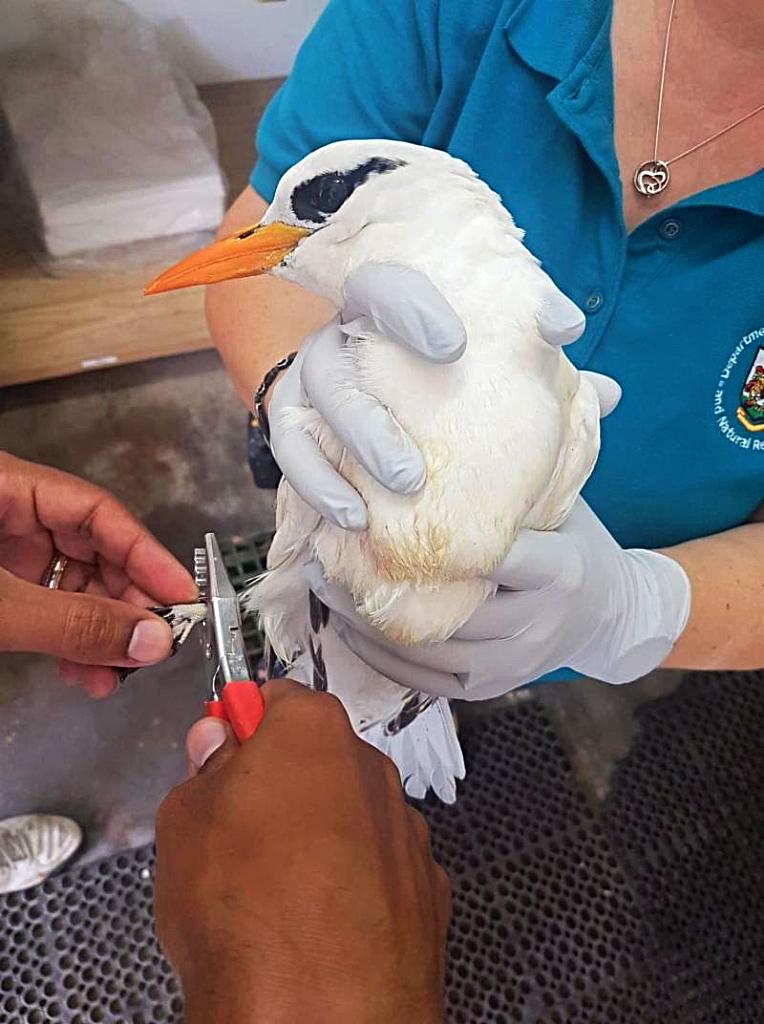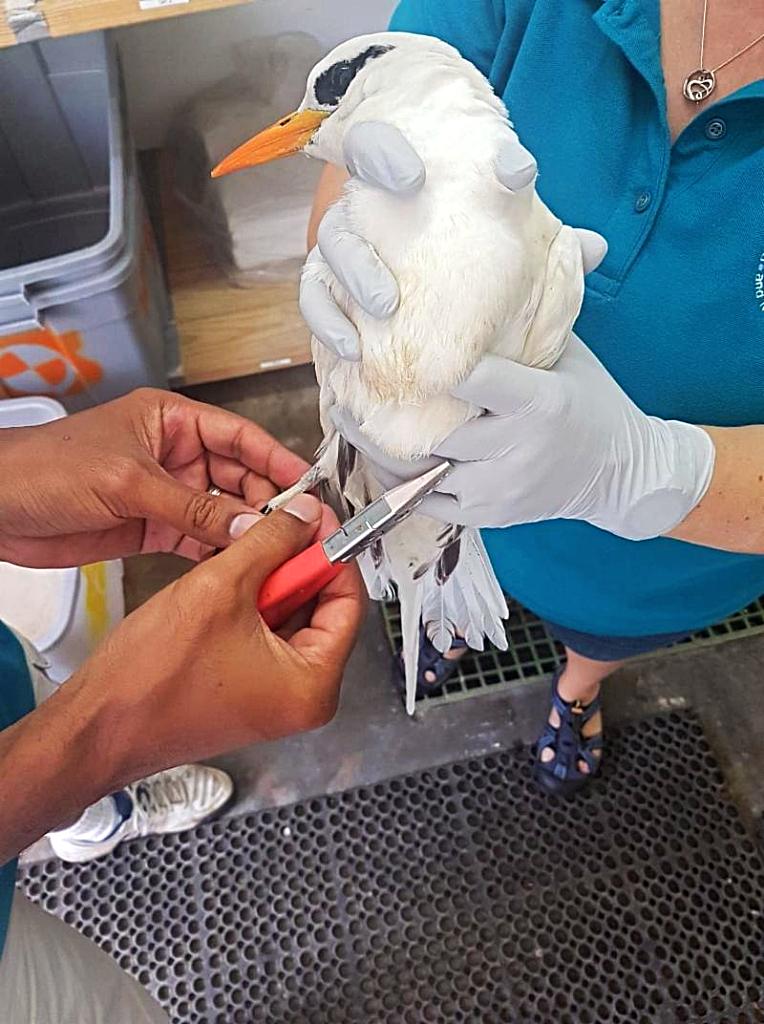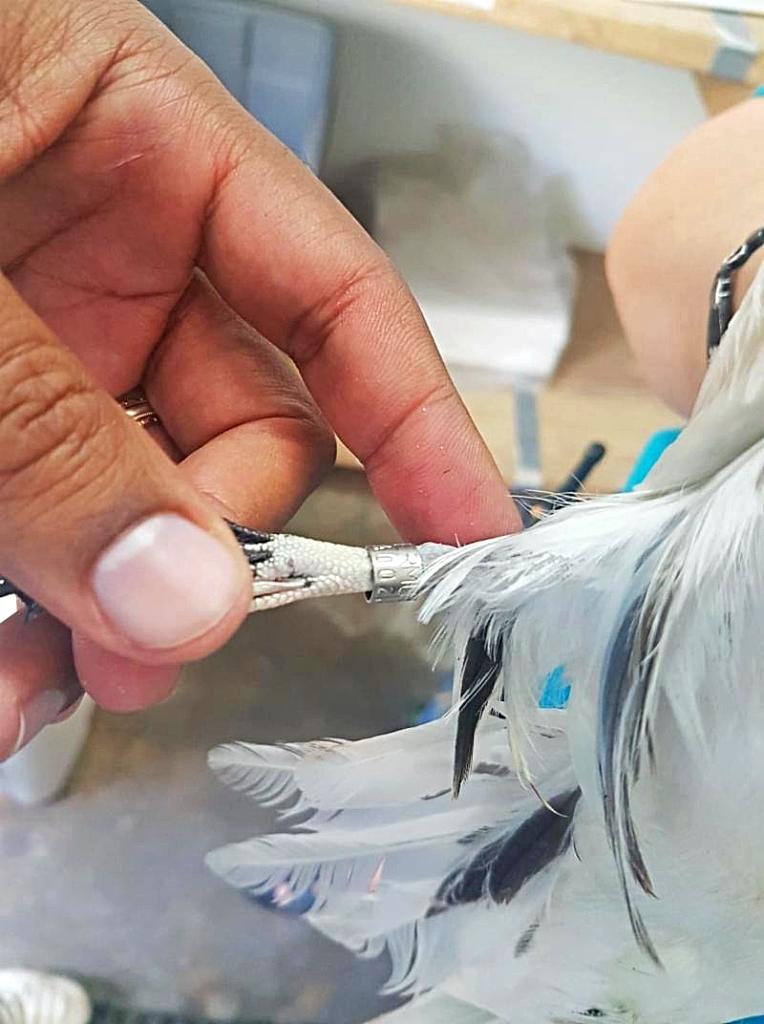 Typically, when we receive longtail chicks we rehabilitate them to the point of release. We aim to take them to Nonsuch Island, where they can be released from an elevated altitude, to give the bird the best possible chance at its first flight. However, as this was an adult longtail that we received, we released it from our docked boat Callista.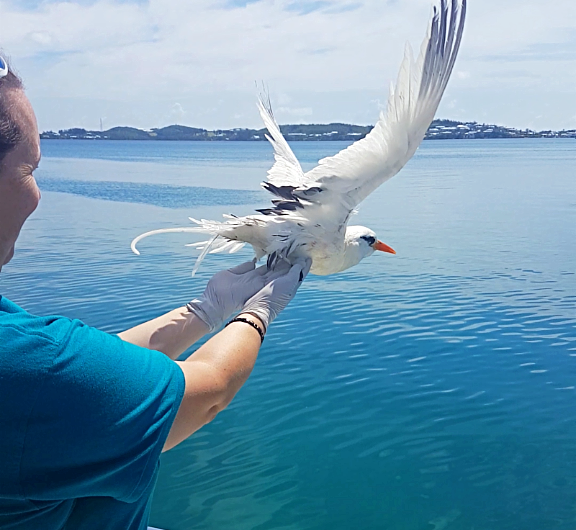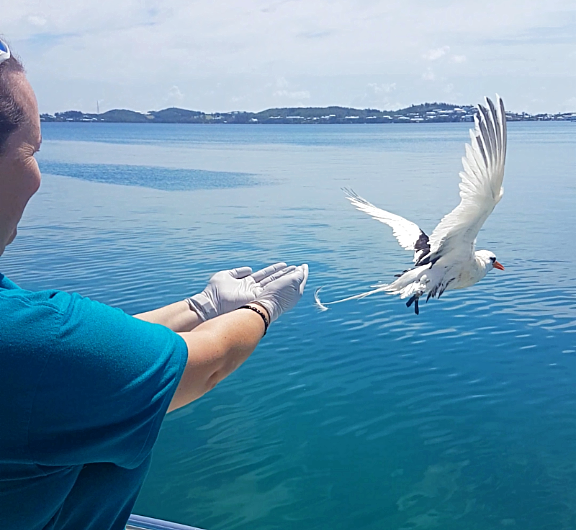 If you encounter a similar situation, where you discover an injured animal on your property or in the wild, please either contact BAMZ at (441) 293-2727 or download the Animal strandings and marine emergencies contact form.