Recent News
Video: Shark Makes 'Visit' To Shelly Bay Beach
Monday, June 04, 2018
Yet another video of a shark has gone viral, this time with footage appearing to show the shark coming in close to shore at Shelly Bay Beach.
Say no to Plastics
Friday, June 01, 2018
Today, June 8th, is World Oceans Day, and the theme for this year is the prevention of plastic pollution to encourage healthy oceans. On World Oceans Day, people around our blue planet celebrate and honour the ocean, which connects us all.
Kids donate birthday money to BZS
Friday, June 01, 2018
Instead of spending their birthday money on video games or the latest dolls, on Monday 14th May 11-year-old Oliver "Olly" Cherry and 8-year-old twins Hayleigh and April Cherry presented Dr. Ian Walker, curator of the Bermuda Aquarium, Museum and Zoo, with a donation of their birthday money to be put towards the Bermuda Zoological Society's education programmes.
Choy goes to "Raw" at the Florida Aquarium
Friday, June 01, 2018
Last month BAMZ Aquarist, Choy Aming, was able to attend the Regional Aquatics Workshop - RAW - at the Florida Aquarium in Tampa, thanks to the funding from the Bermuda Zoological Society. The workshop took place from 14th-18th May, and according to Choy it was an intensive 5 days.
MSA students raise money for the BZS Amphibian Project
Friday, June 01, 2018
On Wednesday, 28th March the students of the two Mount Saint Agnes' grade 3 classes held their "TOAD-ally Terrific tag sale", a fundraising event for the Amphibian Project which is supported by the Bermuda Zoological Society (BZS). After the two-day event, the students were able to raise over $1,300 for the Amphibian Project.
Community
About Us
Board of Directors
Contact Us
Become a Volunteer
Newsletter
Latest News
Trunk Island
Gift & Bookstore
Contact
General Inquiries
info@bzs.bm
Latest News
All the latest updates and news from the Bermuda Aquarium, Museum, and Zoo, one of Bermuda's leading visitor attractions!
Endangered predators may lead to erosion of reefs
Royal Gazette
Thursday, May 17, 2018

Sarah Lagan
Published May 17, 2018 at 8:00 am (Updated May 17, 2018 at 7:58 am)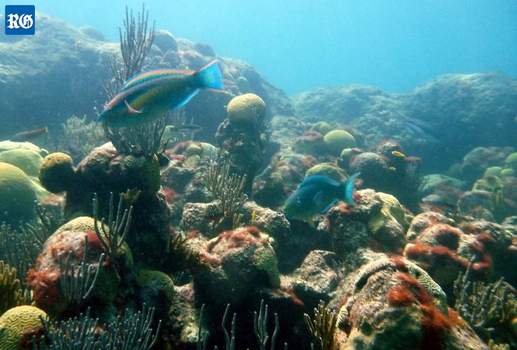 Predatory fish numbers are at critically low levels, a new report has warned.
Major marine predators including groupers and snappers are endangered, a scientist has warned.
Thaddeus Murdoch, chief scientist at the Bermuda Reef Ecosystem Assessment and Mapping programme, added that if the problem is not dealt with, it is "highly likely" the island's reef system will erode away.
Dr Murdoch explained that Bermuda's low predator count had led to an explosion in the number of coral-killing damselfish, whose population has doubled in the area since 2010.
He added that had reduced reef quality across an area bigger than Bermuda's landmass.
Dr Murdoch said: "Large predators like black grouper carry out important work by managing the numbers of small and large parrotfish on the reef.
"Smaller predatory fishes such as red hind, coney and grey snappers do much more than just provide a source of food, as they keep coral-killing damselfish from increasing and causing damage to reefs."
He added: "Bermuda's coral reefs protect the island, give us food and provide exciting experiences for locals and tourists alike.
"However, our reefs, along with those across the world, face destruction from an increasingly acidic ocean and increasingly violent storms.
"Our reefs can face these serious threats, but only when predatory fishes like grouper and snapper, as well as plant-eating fish like parrotfish and surgeonfish, are abundant, marine seaweeds are sparse, and hard corals are healthy."
Dr Murdoch said: "We oversee the condition of our reefs as if they are primarily a fisheries concern. Reef condition is a tourism and coastal protection issue, and should be managed accordingly."
He was speaking after the release of a report into the health of the island's reefs and fish population in 2016 was released.
The report was prepared by Dr Murdoch and a team of researchers through the Bream programme.
Dr Murdoch said Bermuda could restore the predatory fish population by restrictions on the commercial and recreational catch of groupers and snappers and a limit on the sale of predators during spawning season. He added an expansion of the seasonal prohibition and increase in protected spawning areas where necessary, as well as improved marine resource enforcement would also help.
Dr Murdoch said: "Our centuries-old Bermuda reef fishery, and the multigenerational livelihoods that it provides, can only persist if we maintain the numbers of our breeding groupers and snappers.
"If we fail to protect our fish and coral reefs, then bigger waves will hit the shore, and our beaches will change from pink sand to rocky rubble."
The report contained information collected from 2004 to 2011 and compared it to updated data collected by a fresh survey of the reefs in 2015 and 2016 by Dr Murdoch and his team.
Bream measured the amount of corals, marine plants, plant-eating fish and predatory fish at 38 reefs.
The Department of Environment and Natural Resources did not respond to a request for comment.
The Bream report is available at www.bermudabream.org