Recent News
Plein Air Society paints on Trunk Island
Friday, June 01, 2018
After meeting Dr. Ian Walker at a Bermuda Tourism Authority event, Rhona Emmerson was able to arrange for her group of artists - the Plein Air Society - to take a trip out to Trunk Island for a morning of painting on Sunday, 22nd April.
MSA students hold Toad-ally Terrific event
Thursday, May 24, 2018
Pupils from a convent school are helping Bermuda's struggling toad population.
Video: Bridget The Sea Turtle's Rehabilitation
Saturday, May 19, 2018
The Bermuda Tourism Authority has released a video highlighting the successful rehabilitation of a sea turtle named 'Bridget', with the video also providing tips on how to help if you find an injured turtle.
Endangered predators may lead to erosion of reefs
Thursday, May 17, 2018
Major marine predators including groupers and snappers are endangered, a scientist has warned.
Photos: MSA Students Raise Money For BZS
Thursday, May 17, 2018
In March of this year, the students of the two Mount Saint Agnes' grade 3 classes held their "Toad-ally Terrific tag sale", which was a fundraising event to support the Amphibian Project that is supported by the Bermuda Zoological Society [BZS].
Community
About Us
Board of Directors
Contact Us
Become a Volunteer
Newsletter
Latest News
Gift & Bookstore
Contact
General Inquiries
info@bzs.bm
Latest News
All the latest updates and news from the Bermuda Aquarium, Museum, and Zoo, one of Bermuda's leading visitor attractions!
A Lucky resident of North Rock
Bermuda Zoological Society
Friday, April 27, 2018

Excerpt from WILD News April 2018
If you have recently visited the Bermuda Aquarium, Museum and Zoo (BAMZ), you may have noticed two new additions to the North Rock habitat; a green turtle and a rainbow parrot fish. We'll explain in the next story about the parrot fish, but this story is about how "Lucky" the green turtle found a home at BAMZ.
Lucky was brought to BAMZ on July 3rd, 2016. He was collected off Marshall's island and was found floating on the surface with deep lacerations on his shell from a boat strike and a missing front flipper, likely through an interaction with a shark. Half of each hind flipper were also missing and the boat strike had paralysed his one of his hind flippers and weakened the other. To cap off this turtles problems, he was positively buoyant meaning he could not dive and stay at the bottom of the tank.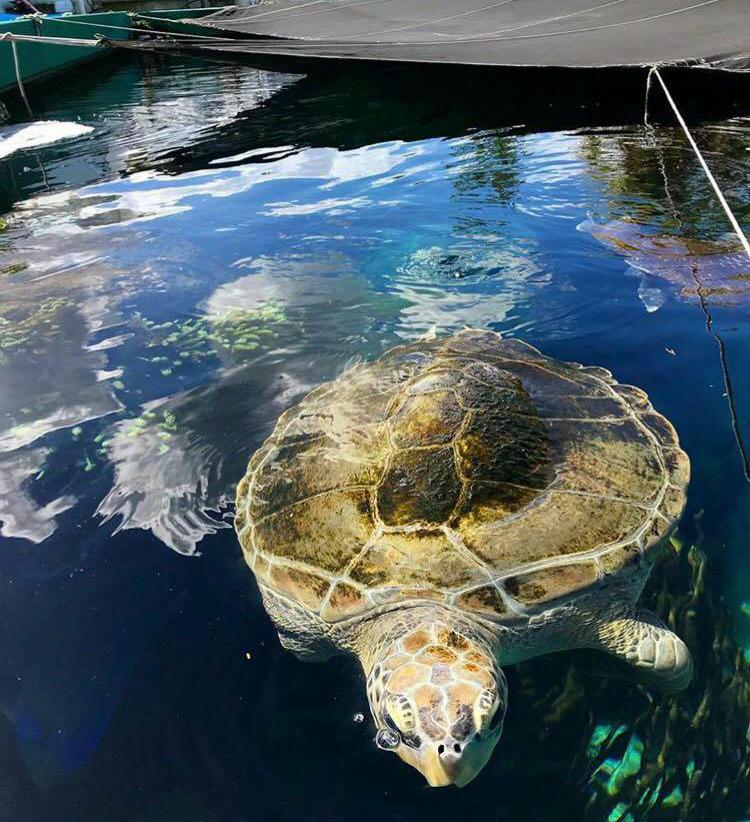 Lucky the Green Turtle in the North Rock exhibit. Photo by Dr. Alex Amat
Lucky was admitted into the Wildlife Rehabilitation programme, a hospital for sick wild animals, with the hope that he could be released back the wild. Unfortunately the extent of his injuries meant this is still far from certain.
In late February, after almost two years of rehabilitation, it was decided to place Lucky in the North Rock habitat. The aquarists believed that he would be unable to swim to the bottom, but at least he would have access to a larger roaming area.
This turtle definitely lived up to his name, because within a few days, the aquarists noticed that he was diving down on his own! With only one and a half working flippers and severe buoyancy issues, this "lucky" guy still found a way to make it to the bottom of his new habitat!
For now, Lucky will remain in the North Rock Tank. But, who knows what the future holds for this fellow. The animal health team and aquarists will continue to monitor his progress, and maybe one day he can return to the big blue ocean. Green sea turtles are a migratory species and the big question still to answer is whether he can survive a long oceanic journey.
Until then, be sure to visit BAMZ to take a look at Lucky as he glides through the North Rock!