Recent News
Whale researcher using aerial footage
Tuesday, May 08, 2018
Whale researcher Andrew Stevenson will use unique aerial footage for a follow-up to his acclaimed documentary Where the Whales Sing.
Parrotfish Checkup
Wednesday, May 02, 2018
When new fish arrive at BAMZ, they must first undergo a minimum of 30 days quarantine in order to diagnose any marine parasites which, if left untreated, can infect the other inhabitants of the aquarium hall tanks.
Sheldon the baby Loggerhead turtle
Tuesday, May 01, 2018
This is Sheldon, a juvenile loggerhead turtle.
A Lucky resident of North Rock
Friday, April 27, 2018
If you have recently visited the Bermuda Aquarium, Museum and Zoo (BAMZ), you may have noticed two new additions to the North Rock habitat; a green turtle and a rainbow parrot fish.
Aming: Likely The Same Shark Being Seen
Wednesday, April 25, 2018
Following the recent shark sightings, local expert Choy Aming said he is "almost positive that the same hammerhead is being spotted repeatedly" and explained that hammerheads "are quite docile and are not really a threat to people" and "noted that this may be the only hammerhead you see in Bermuda in your life."
Community
About Us
Board of Directors
Contact Us
Become a Volunteer
Newsletter
Latest News
Trunk Island
Gift & Bookstore
Contact
General Inquiries
info@bzs.bm
Latest News
All the latest updates and news from the Bermuda Aquarium, Museum, and Zoo, one of Bermuda's leading visitor attractions!
Video: Family Films Hammerhead Shark
Bernews
Wednesday, April 04, 2018
A family said they found themselves privy to a rare sight as they paddle boarded close to Flatts Inlet recently, as a shark made a surprisingly close approach that they were able to catch on video, which went viral after being posted on social media.
Julie Compton told Bernews, "It was Monday afternoon, with myself and my husband Jim paddle boarding around Gibbets. We were approaching the island from Flatts Inlet and boarding just to the right of it. My husband spotted the fin and alerted me, thinking it was the wing of a ray."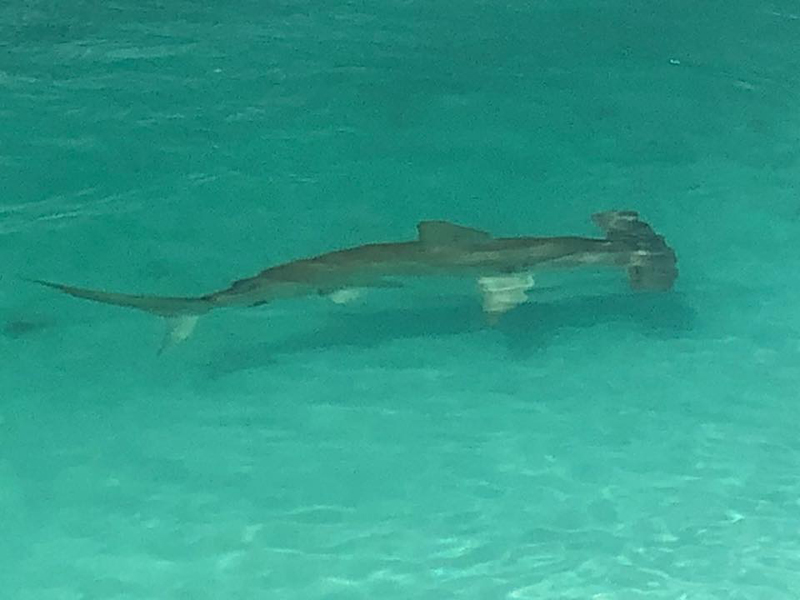 "Suddenly it came right toward us and we saw what it really was. It swam right between our two boards and then under.
"I was terrified…we carried on paddling faster round the island and back down Flatts Inlet to St James. We got out at our dock and went straight to tell our friends about it. As we were talking, I said, 'I don't know where it went, maybe it followed us back.'
"Immediately as I said it, Jim looked at the water and said, 'it's right there.'