Recent News
Press Release: Lionfish project
Tuesday, March 13, 2018
It is often said that good things come in groups of three, and that might be the case for a trio of research projects aimed at reducing a threat to Bermuda's marine biodiversity: the invasive lionfish.
Video: Sharks Feed On 30 Foot Dead Whale
Thursday, March 01, 2018
Calling it a "once in a lifetime encounter," Weldon Wade posted video footage showing sharks feeding on dead 30-35 foot sperm whale floating off Bermuda, with the video also showing Marine Biologist Choy Aming on top of the whale capturing GoPro footage from a very unique perspective.
Bridget the turtle prepares for return to sea
Friday, February 09, 2018
When Aerial Williams went fishing, a turtle was the last thing she expected to find at the end of her line.
Video & Photos: Turtle Successfully Rehabilitated
Thursday, February 08, 2018
A sea turtle that was accidentally caught by a young girl has been successfully rehabilitated following surgery to remove a fishing hook, with a group gathering today [Feb 8] at the Bermuda Aquarium and Zoo [BAMZ] to make the announcement, while also educating the public on how injured sea turtles should be handled.
BZS Set To Host "A Home For A Bluebird"
Sunday, February 04, 2018
The Bermuda Zoological Society [BZS] is getting set to host an event titled "A Home For A Bluebird" on Sunday, March 4, with the first presentation to take place from 10.00am to 11.30am and the second presentation to take place from 1.30pm to 3.00pm.
Community
About Us
Board of Directors
Contact Us
Become a Volunteer
Newsletter
Latest News
Gift & Bookstore
Contact
General Inquiries
info@bzs.bm
Latest News
All the latest updates and news from the Bermuda Aquarium, Museum, and Zoo, one of Bermuda's leading visitor attractions!
Vet's legacy reveals the wonders of the deep
Royal Gazette
Friday, November 24, 2017
Sarah Lagan
Published Nov 24, 2017 at 8:00 am (Updated Nov 23, 2017 at 11:26 pm)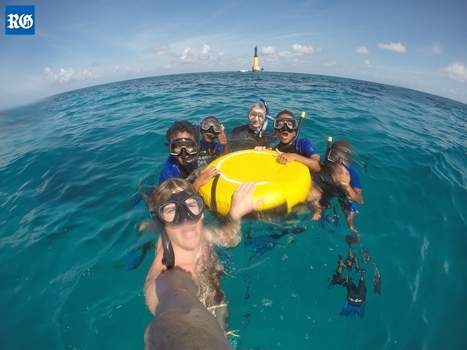 Water babies: the Neil Burnie Foundation helps support the
Bermuda Zoological Society's Kids on the Reef programme
Young children with little or no swimming experience will be introduced to "the wonders of the ocean" thanks to another Neil Burnie Foundation fundraiser.
The money raised at the annual event goes towards any programme that gets people, and most importantly, young people, into the ocean.
Neil Burnie, below, a Bermudian-based vet with a passion for the ocean, died in a marine accident in 2014. He was on the verge of a TV career as the star of Ocean Vet along with his Bermudian research partner Choy Aming.
This year's event was held at The Docksider Pub and Restaurant on Friday evening with a host of entertainers performing.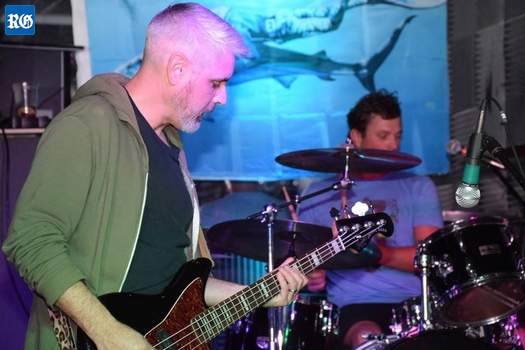 The Big Days performed at the Neil Burnie Foundation fundraiser.
It included an "add-on" fundraising auction that helped to raise money specifically for the Kids on the Reef free-diving programme, which is run out of the Bermuda Zoological Society.
The funds help to bring professional free divers to the island to lead the programme and get as many students on the water as possible.
Foundation treasurer Milton Raposo said: "Many of these kids have never been out on the water and some are inexperienced swimmers so there is always hesitation. The reports we get back are that by the end of the week, their confidence levels have vastly increased and they've also learnt how important the reef system around Bermuda is.
"Again this year, we helped to fund Kids on the Reef which teaches kids how to responsibly freedive and new this year was WaterStart which is similar, but using scuba gear.
They also get kids into Bermuda Institute of Ocean Sciences labs where they are up close with science. We also helped with the last bits of shark tagging that Neil never finished."
Mr Raposo said that when defining the foundation's mission the question that is asked is: "What would Neil do?"
He added: "Neil Burnie's one driving ambition was to show everyone the wonders of the ocean. He never stopped trying to get you into the water or he was always showing you something he took a picture or video of. Of course, it's a little more detailed than that but we try to keep his legacy alive that way.
"We all know how important the ocean is to Bermuda. We have this incredible resource that provides us with economic and social benefits. The reef also keeps us alive in terms of storm safety and so we need to have an understanding and appreciation of it and hope that people continue to support the foundation."