All the latest updates and news from the Bermuda Aquarium, Museum, and Zoo, one of Bermuda's leading visitor attractions!
Pepper trees removed from Trunk Island
Tuesday, December 19, 2017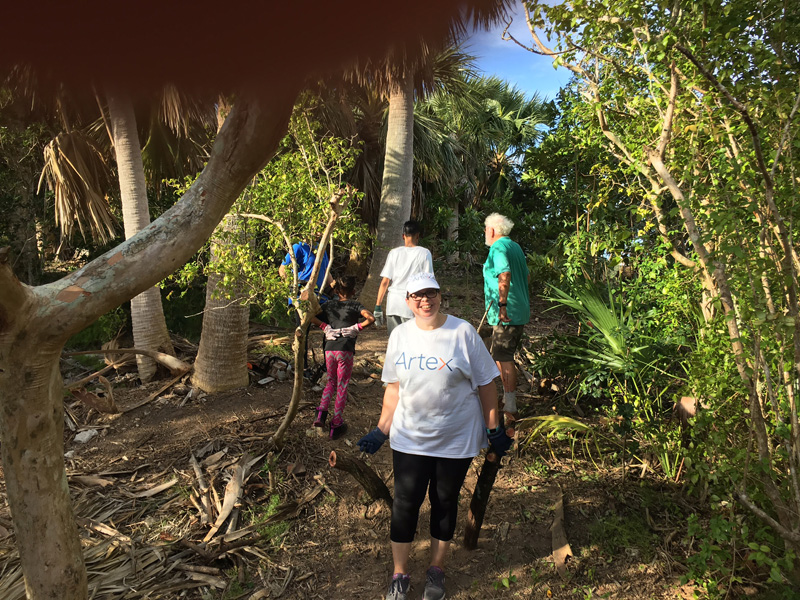 More bite than bark: Artex employees cut back trees
Staff from captive insurance firm Artex and their family members helped remove invasive Brazilian pepper trees from Trunk Island.
Colin Brown, president of the Bermuda Zoological Society, which owns the island, said: "Thank you to the team from Artex for all their hard work during their corporate day of giving on Trunk Island.
"It is with this kind of support that we can continue to work towards our goal of returning the island to its native and endemic state, in order to preserve it for future generations."
Robert Eastham, managing director of Artex in Bermuda, said: "Artex has been part of the Bermuda community for 20 years and we're prou! d to support its continual development.
"The conservation of our island and the ability to teach both children and adults to understand and respect what makes us unique is a privilege. We're so happy that we have the chance to give back to our local community."
The island in Harrington Sound is used for overnight camps, educational workshops and nature encounters.
A team of 17 people from Artex cut down and removed the invasive trees last week to help restore the island to its natural state.
For more information about Trunk Island, visit www.bamz.org/community/trunk-island.